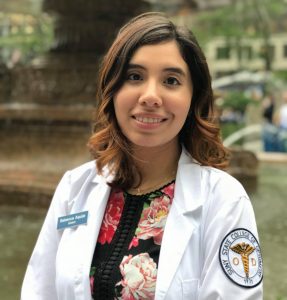 NEW YORK, N.Y. (May 15, 2020) —Rebecca Aquije's very first career choice wasn't necessarily her own. "As children of immigrants can probably relate, I used to want to be a doctor because my parents encouraged me to be one," said Aquije, whose family is from Peru. After a few years believing she would be a comic book or video game artist, the former Lions club president realized that art actually worked better as her hobby and she went all in on optometry. Here, this year's recipient of the Dr. Max Cohen Memorial Award for Commitment to Community Service reflects on her time at the College.
Degree: Doctor of Optometry (2020)
Hometown: Queens, New York
Undergraduate Education: St. John's University — Biology (2016)
What draws you to optometry?
There are many reasons that led me to the field, but it ultimately stemmed from the poor encounters I had with optometrists growing up. I was scared to get eye exams because I knew it would confirm that my prescription was worsening. The doctors were cold and it seemed like they didn't care to address my worries about my prescription—I didn't even know myopia control existed until I started optometry school! So I decided that I would be a way better optometrist than all the ones I went to. Compassion and empathy have been big for me. Plus, being a high myope helps me better relate to patients who are in the same boat.
What is your fondest memory of your time at the College?
This is a tough one! Probably Spirit Week 2019. I love the energy of the SUNY community during that time of year and love interacting with friends from all class years. I was especially excited third year because for the first time, I could attend every single event. It was the first time I could see the work of organizing the Lion's Club blood drive as a pay off (cue me being upset later for being too iron deficient to donate blood). It was also the second time I was the artist for NOSA's Paint Night (but the first time we painted the posterior pole, which I think was the best theme we had).
How did your classmates shape your experience?
I definitely could not have made it as far I did if it weren't for my classmates. I already got a sense of what the next four years would be like on our first day; we were told that the person who sat next to us would be our friend for the rest of our lives (you know who you are)! Optometry school is not easy to get through, but it was made bearable because of my classmates. Thanks to them I learned core survival skills (like cooking), explored the city, went on awesome out-of-state adventures, and even traveled outside the country! They helped shape my identity, sense of independence, and form my goals for the future. Thank you, my friends!
What was your favorite course?
Ocular Disease is where I really started to get excited about what I was learning. It felt like a preview of what I was truly getting into. It was like struggling to climb over a steep hill while your legs are burning, but it's the kind of burn that's good for you.
What leadership positions did you hold at the College?
I served as secretary and president for Lions Club. It was rewarding to help organize vision screenings for students to brush up on their clinical skills and for the patients who were able to receive care. Homework Helpers for our vision therapy patients was another exciting experience that Lions created; I'd like to extend my gratitude to the current president for keeping it going! Lastly, being the artist for NOSA and more recently for the virtual drawing class has been incredibly fun. I'm happy that I was able to give enjoyment to others through my drawing abilities.
What does it mean to you to win this award?
I'm very honored and grateful to be receiving the Dr. Max Cohen Memorial Award for Commitment to Community Service. It was unexpected, but I really appreciate the recognition for the time spent doing vision screenings with Lions, Paint Night with NOSA, and any other events I helped out with. Thank you so much!
What are your post-graduation plans?
I'll be completing a VT residency at SUNY! I've been interested in VT for some time. I think it started from attending COVD meetings and listening to speakers talk about their experiences. I came to see VT as a creative side to optometry. I felt that I can use VT as a creative outlet with planning activities and I love being able to interact with patients on a more personal level.
What advice would you give new students at the College?
Having something to look forward to really got me through the darker moments of optometry school. This can be hanging out with your friends, spending time with your pets, doing your favorite hobbies, or just taking a well-deserved nap. Most importantly, do not compare yourself to your peers! That's been a personal struggle for me and it's a useless thing to spend your energy on. View your peers as your support system and not your competition. Remember that you got into SUNY Optometry! That's deserving of a pat on the back and shows that you truly are a bright individual.