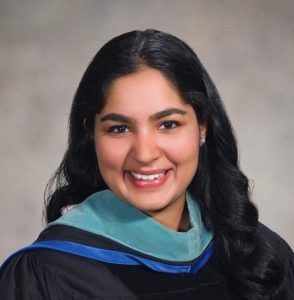 NEW YORK, N.Y. (May 20, 2020) —As a high school student, Simrit Virk had aspirations to be an English teacher after volunteering during school trips to India. She desired to impart her love and knowledge of literature and writing. It was during the visits that Virk would connect with her extended family and interact with her younger cousin, who was diagnosed with ocular Stevens-Johnson Syndrome at a young age. The connection ultimately shifted her career focus. Her cousin asked all the questions that served as the catalyst for her interest in ocular health as a student at the SUNY College of Optometry. Recipient of the Ira Goldfarb Memorial Award for Excellence in Low Vision, Virk says that her vision as a doctor of optometry is to participate in effective patient education: "Every individual has a right to engage in thoughtful communication and be heard."
Degree: Doctor of Optometry
Hometown: Dix Hills, New York
Undergraduate Education: SUNY Stony Brook University (2016)- Major: Chemistry & Minor: English
What draws you to optometry? 
I always wanted to be in a helping profession. Optometry was appealing given my positive experiences with my eye doctor, in addition to my passion for science and working with others. Optometry is very rewarding because you're able to make a meaningful impact not only on someone's vision but also their quality of life. I'm particularly interested in low vision rehabilitation because these referrals for patients dealing with reduced vision can be life changing, and I hope to contribute to their functional visual enhancement.
What is your fondest memory of your time at the College? 
It's hard to pick one memory from all the times practicing (and laughing) in the labs together and having fun at the Halloween parties to painting eye-related masterpieces at NOSA's Paint Night. My fondest memories are with the people who participated in these creations, my inspiring friends and teachers, both inside and outside the classroom.
How did your classmates shape your experience?
I am very grateful for the experiences shared with my classmates and friends. The ever-present support system and sense of togetherness were incredible. I will miss our times spent together, but I now have colleagues I can always count on and have made friendships to last a lifetime!
What was your favorite course?
I enjoyed ocular disease because it tied together well with our other courses. We learned about the ocular manifestations of systemic diseases, as well as how to participate in interprofessional care. I also enjoyed our optics courses because they provided the fundamental concepts that we use daily.
What are your post-graduation plans?
I will be doing a residency in primary care, low vision rehabilitation, and vision therapy at the Northport VA, where I hope to gain specialized training and continue to grow as a clinician.
What advice would you give new students at the College?
It can be overwhelming some days but keep your chin up and persevere because you can do it! You will not remember every single detail but always think about the big picture. The pieces of the clinical puzzle will make sense. Also, a reminder that you're in the same boat as your classmates and never be afraid to ask questions. You got this!