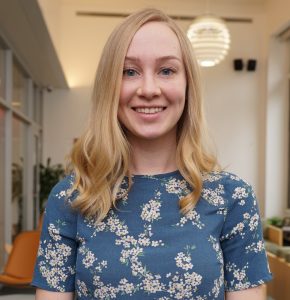 NEW YORK, N.Y. (May 18, 2020) — Stefanie Clendaniel did not grow up wanting to work in the eye care industry. As someone with a deep passion for learning, she actually wanted to be a teacher. She has apparently held onto that love; the Class of 2020 graduate is the winner of the Beta Sigma Kappa Award, given to optometry students who demonstrate academic excellence. But Clendaniel did more than study these past four years; below, she discusses finding her way in New York City, discovering an interest in ocular disease and (nearly) following in her mother's professional footsteps. 
Degree: Doctor of Optometry (2020)
Hometown: Lincoln, Delaware
Undergraduate Education: University of Delaware — Biological Sciences (2016) 
What draws you to optometry?
My mom was a nurse anesthetist with an incredible passion for both science and caring for others. Her work ethic, knowledge and compassion were inspiring. Because of her, I began to consider a career in the medical field. I've been wearing glasses since I was in elementary school and used to look forward to my annual eye exams—my optometrist was friendly, the tests weren't scary (although I was never a fan of the dreaded "air puff"), and I would leave with a new pair of glasses that made the world look great. So, when I was considering what medical profession to pursue, optometry jumped to the top of the list. I shadowed with an optometrist throughout college whose clinical acumen, passion and kindness solidified that optometry was the career for me.

What is your fondest memory of your time at the College?
Our white coat ceremony at the end of second year. Receiving our white coats represented that we were taking on more independent patient care responsibilities, something we would all worked incredibly hard for and were eager to begin. It was an honor to celebrate this privilege with my classmates, family, and closest friends.

How did your classmates shape your experience?
Moving to New York alone was really intimidating, but I found the SUNY community to be incredibly welcoming and quickly formed lifelong friendships. I feel so lucky to have made friends who I can vent to and celebrate with, and who encourage me to try new things and enjoy all that NYC has to offer. I have my classmates to thank for how enjoyable my SUNY experience has been.

What was your favorite course?
My favorite was Ocular Disease II, which focused on retinal disease. I found the material to be both incredibly interesting and clinically relevant. It inspired me to pursue a residency and future career in an ocular disease-heavy setting.
What does it mean to you to win this award?
It's an honor to be awarded the Beta Sigma Kappa Award. I feel so fortunate to have had the privilege of learning from such knowledgeable professors, being mentored by the most inspiring clinical supervisors, and having the support of my family and friends through it all. SUNY's curriculum is incredibly rigorous, but I know that I am a more experienced, informed and compassionate clinician because of it. I'm looking forward to incorporating all that I've learned to care for my future patients!

What are your post-graduation plans?
I'll be completing a residency at Kaiser Permanente in Seattle. Though primary care and ocular disease focused, I will also be fitting specialty contact lenses and performing low vision examinations, so I'm excited to hone all of these different skills. After residency, I hope to work in a hospital-based setting so I can continue to pursue my passion for primary care and ocular disease optometry.

What advice would you give new students at the College?
Become involved in one (or some) of the many clubs and organizations SUNY has to offer. It's a great way to make friends with similar passions, and to give back to both the SUNY and NYC communities.