ESHENBACH LOW VISION AWARD for EXCELLENCE IN LOW VISION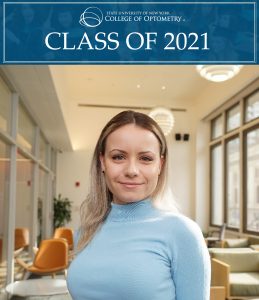 A fan of playing chess and the piano, Amanda Kulberg was exposed to the field of optometry at a young age through her father, an optician working in New York. Having worn glasses since childhood, she also struggled with reduced vision. It's why she looks forward to combining her personal experience and training at SUNY Optometry to help others with the same condition. "I have a large interest in specialty lenses and improving the vision of those that spectacles are not able to." Recipient of the Eshenbach Low Vision Award for Excellence in Low Vision, she reflects on her journey from patient and student to becoming a new doctor of optometry.
Degree: Doctor of Optometry
Hometown: Brooklyn, New York
Undergraduate Education: Macaulay Honors College at Brooklyn College, B.A., Chemistry
What draws you to optometry?
The compassion and empathy that come along with the field of optometry are unparalleled to any other health profession. We always have to remember that we are taking care of a person and not a set of eyeballs.
What is your fondest memory of your time at the College?
When we started seeing patients for the first time in the clinic, it's one thing when you're sitting in a classroom and taught procedures and diseases, but a whole different experience when you can apply that knowledge in real life.
How did your classmates shape your experience? 
Coming from a large undergraduate college, I was not used to such a small class. My classmates at SUNY Optometry made our whole class feel like a family. We are always there to help each other and lend a hand whenever needed.
What was your favorite course?
My favorite course was Ocular Disease because finally, all the chemistry and biology clicked together, it formed the bigger picture.
What are your post-graduation plans?
I plan to work at an OD/MD practice and specialize in myopia control and specialty contact lenses and practice primary care optometry.
What advice would you give new students at the College?
While it may seem extremely overwhelming initially and seems there is no end in sight, it is all worth it in the end. You will never believe how much you know and are capable of. These four years will fly by. Make the best of it!