OPTELEC LOW VISION AWARD FOR EXCELLENCE IN LOW VISION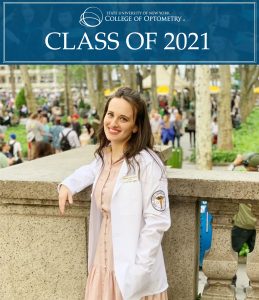 Brooklyn native and dedicated student Chana Haimowitz is a new doctor and a newlywed whose husband hails from Santa Barbara, California.  She describes him as someone with a lot of hobbies including being a "serious surfer"! When not in study or the clinic, Hamowitz enjoys playing basketball and following the NBA, reading—especially Harry Potter, and spending time with friends and family. Recipient of the Chancellor's Award for Student Excellence, she looks forward to continuing her training and work with patients from all walks of life as a resident at SUNY Optometry.
Degree: Doctor of Optometry
Hometown:  Brooklyn, New York
Undergraduate Education:
Lander College of Arts and Sciences at Touro College, B.S. in Biological Sciences
What draws you to optometry?
The ability to help people with their sight draws me to optometry, including diagnosing and treating. I also appreciate the work-life balance that is possible to achieve with our profession.
What is your fondest memory of your time at the College?
Some of my fondest memories are simply getting through the grind with peers—peers who became close friends in the process of getting through the grind. Whether it was an 8 a.m. lab performing a trabeculectomy on a bovine eye, trembling together in the 14th-floor antechamber waiting to be called in for a CO assessment, or late study in the library readying for finals–all were great times.
How did your classmates shape your experience?
My classmates provided tremendous moral support.
What was your favorite course?
Senior seminar of the first and second year. I absolutely loved being in the clinic shadowing and scribing. It gave me constant perspective to where all the hard work is leading.
What are your post-graduation plans?
Next year I'll be serving as one of SUNY Optometry's Ocular Disease residents. I am looking forward to it. What a privilege.
What advice would you give new students at the College?
In the words of songwriter and singer Avril Lavigne: "You're not alone, keep holding on, we'll make it through!"