CHANCELLOR'S AWARD FOR STUDENT EXCELLENCE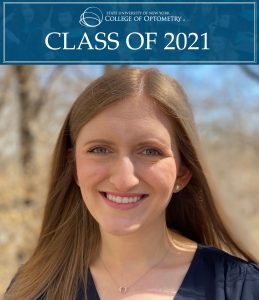 A native of Germany, Christina Cherny desired to find a profession that would allow her to combine her early childhood goals of becoming both an artist and a doctor. Optometry proved to be the best blend of both worlds. "I have found specialty contact lens care to be very complementary to these two passions, as I can exercise creativity while improving quality of life for my patients." The journey to becoming an optometrist has also allowed Cherny the opportunity to participate in research activities, publishing several articles during her time at the College, and channel her growing expertise and energy into outreach efforts that include caring for rural people in disadvantaged nations. An avid cook and traveler who has visited over 40 countries, Harvard-residency bound Cherny adds to her growing list of accomplishments the Chancellor's Award for Student Excellence.
Degree: Doctor of Optometry
Hometown: Duisburg, Germany and Staten Island, New York
Undergraduate Education: Cornell University, B.S. in Human Biology, Health & Society with a minor in Design and Environmental Analysis.
What draws you to optometry?
I have found optometry to be a gratifying profession. It is work that allows me to improve the quality of life of my patients while getting to know them on a personal level, including laughing and joking our way through each exam.
What is your fondest memory of your time at the College?
Shortly before the pandemic, I spent a week providing free eye care to rural Panamanians with other members of SVOSH. At the end of that enriching week, I flew from Panama City to Las Vegas to present a poster at the Global Specialty Lens Symposium, where I learned from some of the leaders in the contact lens world (and also enjoyed some delicious In-N-Out Burger!). This memorable whirlwind of a week opened my eyes to the vast opportunities available to optometrists that I hope to pursue throughout my career.
How did your classmates shape your experience?
The random students I happened to meet on the first day have become some of my closest friends and have supported me during some of the highest highs and lowest lows of my life. I am forever grateful for these friendships and cannot imagine weathering this challenging curriculum, planning a wedding, and an international pandemic without them.
What was your favorite course?
All of the contact lens courses!
What are your post-graduation plans?
After graduation, I am pursuing the Harvard Residency in Ocular Disease and Cornea/Contact Lenses at Massachusetts Eye and Ear.
What advice would you give new students at the College?
Keep your mind open, always! I came into SUNY Optometry "knowing" the one specialty I would never pursue would be contact lens. Four years later, I am completely infatuated with cornea/contact lens care and hope to become a specialist in the field. If you find something that interests you, learn more about it, attend relevant meetings and talk to people involved in the specialty – you may be amazed at the opportunities that arise!