MIRA-MED 20/20 VISION AWARD FOR EXCELLENCE IN OPTOMETRY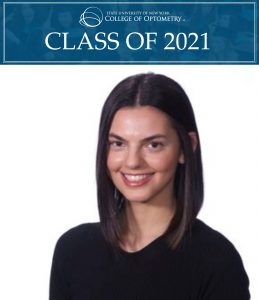 When she's not on the Long Island Rail Road on her way to school and the clinic, Daniella Perlstein enjoys skiing, reading, and travelling, "Which explains why I don't mind the commute to the College every day."  Recipient of this year's MIRA-MED 20/20 Vision Award for Excellence in Optometry, Perlstein says that the diversity of patients and specialties in the field of optometry are what she loves most about her chosen profession. 
Degree: Doctor of Optometry
Hometown: Lawrence, NY
Undergraduate Education: City University of New York, Queens College, BA in Psychology
What draws you to optometry?
The way you can change someone's whole life through a single eye exam. I've had encounters with patients as young as two weeks old all the way to 98 years old, and each time is just as rewarding because you are giving them the gift of sight.
What is your fondest memory of your time at the College?
My fondest memory at SUNY Optometry were the lunch breaks when my friends and I were able to grab our skates and fit in a quick ice-skating session before afternoon clinic. It was our time to bond and just relax before duty called once again.
How did your classmates shape your experience?
The friendships that I made during my years at the College were a huge part of my experience. We pushed each other and formed such strong support groups. I look forward to maintaining these friendships for years to come.
What was your favorite course?
My favorite course has to be Ocular Disease with Dr. Mitchell Dul. I don't think I have ever learned that much information in such a short amount of time in my life. That course is the entire foundation for this lifelong career, and it was taught with such passion, knowledge and love that it would be hard not to favor it.
What are your post-graduation plans?
I will be pursuing a residency in Primary Care/Ocular Disease in our very own SUNY College of Optometry.
What advice would you give new students at the College?
Take advantage of your time here. Four years seems like an eternity when you step foot into the building, but I promise it goes by in the blink of an eye. At times you will feel like a lemon, being squeezed dry from all different directions, but turn around and squeeze it right back. Form relationships with classmates, develop connections and mentors with the amazing doctors in this building. There is no one who wants you to succeed more than the people under this roof, make the most of it.