DR. LOUIS HERRMANN MEMORIAL AWARD FOR OUTSTANDING COMPASSION
IN PATIENT CARE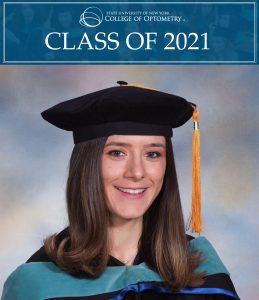 New York-native Emily Aristizabal describes herself as a lifetime competitor, especially when it comes to sports. In between classes and clinics at SUNY Optometry, Aristizabal served as captain of the 2021 softball team at the annual school tournament and voted "most athletic" by her peers for senior superlatives. She also spent time off the playing field helping underclassman to master clinic skills while also bringing eye care to people in underserved areas as a member of the Student Volunteer Optometric Services to Humanity (SVOSH). Her ability to connect with people of all walks of life is why Aristizabal was chosen as this year's recipient of the Dr. Louis Herrmann Memorial Award for Outstanding Compassion In-Patient Care.
Degree: Doctor of Optometry
Hometown: Pearl River, NY
Undergraduate Education: SUNY Oneonta, 2016, Bachelor of Science
What draws you to optometry?
My first exposure to optometry was during a college summer when I got a job as a technician at LensCrafters®. It was the first time I could picture myself pursuing a career that could benefit the lives of so many people. Afterward, I obtained more experience in optometric settings. These include shadowing my hometown optometrist's private practice; observing cataract surgery during a college rotation; and interning in an ophthalmology clinic in Cape Town, South Africa. I quickly learned how many important avenues of eye care there are in the field and knew I wanted to join the optometry community.
What is your fondest memory of your time at the College?
My favorite tradition at SUNY Optometry was walking up to 50th and 5th to the Saint Patrick's Cathedral at the end of every finals week. I would say a prayer for myself and my classmates that we all did well and would be able to move forward in the program together. It turns out it worked!
How did your classmates shape your experience?
For the last four years, I have been fortunate enough to be surrounded by the most selfless classmates and friends. Before any test, quiz, or clinical competency, I knew I could turn to them for any last-minute questions I may have had. Getting through so many difficult times together has made these relationships so strong. My friends and I have celebrated many achievements with vacations all around the US, including Key West, Denver, and Los Angeles!
What was your favorite course?
The class that I looked forward to every week was Pediatrics with Dr. Matthew Vaughn. He made every topic approachable, memorable, and hilarious. I was also fortunate to be in his pediatric clinic during in-house rotations. Because of these awesome experiences, I now look forward to the opportunity to examine kids.
What are your post-graduation plans?
I plan on working in a private practice setting in the surrounding suburban areas. But I am excited to have lifelong relationships with patients wherever I end up!
What advice would you give new students at the College?
When you start seeing patients in the clinic, doing an eye exam is only "half the battle." It is important to remember that attached to each set of eyes is a person who wants to feel comfortable and valued by your care. During the summer off between my first and second year, I obtained a waitressing job in Manhattan! The communication skills I have acquired from being a waitress directly improved every one of my exams. I recommend getting involved in optometry or non-optometry-related jobs that allow you to interact with people.