JOHNSON AND JOHNSON EXCELLENCE AWARD
EXCELLENCE IN CLINICAL CONTACT LENSES-PATIENT CARE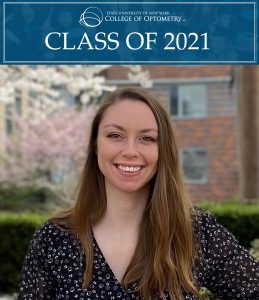 Connecticut-native Holly Knoechel developed an interest in health care while in grade school. But it wasn't until her teen years that her future became clear after shadowing a family friend who was a practicing optometrist. "I knew it was the career for me." Recipient of the Johnson and Johnson Excellence Award in Clinical Contact Lenses Patient Care, Knochel has proven proficiency and merit in contact lens patient care during her optometric education. It is work and expertise she plans to expand as a new doctor of optometry.
Degree: Doctor of Optometry
Undergraduate Education: The University of Connecticut, B.S. in Allied Health Science
What draws you to optometry?
I enjoy the bonds that I will create with my patients, who I will see year after year while caring for their visual, ocular, and systemic health. I also like that optometry challenges me and will allow me to continue learning throughout my career.
What is your fondest memory of your time at the College?
One of my favorite memories was our White Coat Ceremony because it marked the transition from coursework to the clinic. I felt honored and excited to take care of my future patients while being surrounded by family and friends that day.
How did your classmates shape your experience?
I was lucky to have classmates who were always there to share laughs, tears, and encouragement through optometry school.
What was your favorite course?
My favorite course was Ocular Disease I, one of our first courses that focused heavily on treating and managing ocular diseases. This course was both challenging and rewarding. It helped transition my thought process from student to doctor.
What are your post-graduation plans?
I will be working at a full-scope optometry practice in Connecticut.
What advice would you give new students at the College?
Optometry school is stressful and challenging. Put in the hard work in classes and clinic, but don't forget to have fun and do something that you find relaxing. Keep pushing through the stressful times, and don't forget the big picture: why you decided to become an optometrist.