BENJAMIN FREED MEMORIAL AWARD FOR COMMUNITY SERVICE
SPONSORED BY THE READER'S DIGEST PARTNERS FOR SIGHT FOUNDATION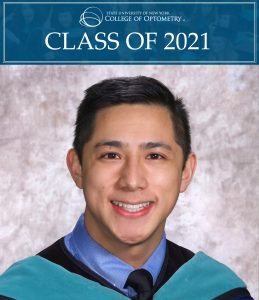 From organizing events and fundraisers as class representative and vice president to coordinating vision screenings as president of ACE (The Health Practitioners' Society), California-native Jeremy Du placed service to peers, patients and communities in need at the center of his endeavors at SUNY Optometry. Recipient of the Dr. Benjamin Freed Memorial Award for Community Service sponsored by the Reader's Digest Partners for Sight Foundation, Du looks forward to expanding his ability to serve people of all walks of life as a new doctor and educate fellow health professionals on how optometric care ties into the overall health and well-being of their patients.
Degree: Doctor of Optometry
Hometown: Sunnyvale, California
Undergraduate Education: University of California Santa Barbara, B.A. in Biological Sciences
What draws you to optometry?
Optometry is a multi-faceted profession where I am challenged to think critically every day and make personal connections with people from all walks of life! I'm looking forward to serving my community and continuing to learn throughout my career.
What is your fondest memory of your time at the College?
As crazy as it sounds, I think my fondest memories from SUNY Optometry are all the nights and weekends spent studying during finals and midterms. Although it was stressful, I was able to see my class community come together with academic help and emotional support. During these times, I built strong bonds with the people I now consider lifelong friends. So while I never want to take another test again, there will always be a small part of me that misses those times.
How did your classmates shape your experience?
After moving to New York from California, I was nervous about being so far from my family, but my classmates helped me feel at home in these past four years. Having their support helped me persevere through optometry school obstacles, and I know I can lean on them in the future.
What was your favorite course?
My favorite course was Optics 1 with Dr. Steven Schwartz! It was one of the first classes of optometry school, and it opened my eyes to the intricacies of something as seemingly simple as glasses. Even though I knew I liked optometry before starting school, I realized there was more to it than meets the eye (pun intended).
What are your post-graduation plans?
I plan to stay in the New York City area to practice in a primary care or ocular disease setting. Hopefully, someday soon, I'll be able to volunteer for mission trips abroad!
What advice would you give new students at the College?
School will be challenging, but the fact that you've made it to SUNY Optometry shows that you're more than capable! Just remember to prioritize your mental health and try to find the fun in everything.