DR. STANLEY EISENBERG MEMORIAL AWARD FOR EXCELLENCE IN PRACTICE DEVELOPMENT AND ADMINISTRATION

DR. WILLIAM FEINBLOOM MEMORIAL AWARD FOR
OUTSTANDING CLINICAL PROFICIENCY IN LOW VISION
DR. MAX COHEN MEMORIAL AWARD FOR
VOLUNTEER COMMITMENT TO COMMUNITY SERVICE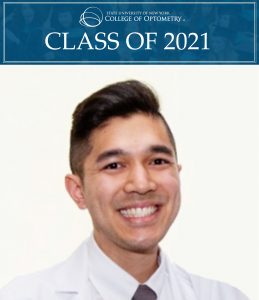 The journey to the optometric profession verged in many directions for Jonathan Pham before landing at SUNY Optometry. "I took four gap years before being accepted to the Class of 2021. The common theme among the things I did during my time off was the human connection and condition." These unique experiences included teaching children's keyboard/piano; mentoring inmates in prison; couch-surfing through two backpacking trips across Europe and Southeast Asia; teaching children with cerebral palsy how to swim; and most significantly, giving time and care to the California School for the Blind.  All of these actions and influences served as the foundation for his commitment and contributions as an optometry student.
At the College, Pham continued his quest for personal growth and care of others by taking an active role in various campus committees, outreach initiatives, and organizations, including President of both the Beta Sigma Kappa International Honor Society and the student chapter of the American Public Health Association. For his dedication to study and service, Pham is honored with the Dr. Stanley Eisenberg Memorial Award and the Dr. Max Cohen Memorial Award. He is also the recipient of the Dr. William Feinbloom Memorial Award for his contributions as a candidate in the Low Vision/Ocular Disease Micro-credential program, a concentration that enhances his volunteer work with VISIONS, a low-vision living community.
Degree: Doctor of Optometry
Hometown: Fremont, California
Undergraduate Education: University of California, Davis, B.S. in Neurobiology, Physiology & Behavior
What draws you to optometry?
I like that with all the different disciplines within optometry, everyone can find the path that suits them best. What we do as providers in each of these areas can directly improve the quality of life of our patients. From fitting a low vision patient with the right magnifier or a new contact lens prescription to taking the time to connect with and educate a patient on an ocular or systemic condition, I am drawn to the fact that what we do daily is simple yet impactful.
What is your fondest memory of your time at the College?
The one time Pret A Manger had the coffee passes, and I had three cappuccinos a day for a month! In all seriousness, my fondest memories would be all the little moments over the years: coffee runs from the library, ice skating during the winter, bike rides in the fall, and the camaraderie in finding our way home after a long night out with classmates.
How did your classmates shape your experience?
They have all played a tremendous role in shaping my growth both as a clinician and a person. I also appreciate all the heart-to-heart talks over the years and have learned more about myself through optometry school—a special shoutout to my two housemates from day one almost until the very end.
What was your favorite course?
Pharmacology I because Dr. Miduturu Srinivas is hilarious, the course tied together many different concepts we learned in other classes, and my pre-exam ritual for that course involved eating delicious food. Ocular Disease III is a close second because the material aligns with some of my biggest interests, and Dr. Patricia Modica's testing style put a more clinical emphasis on things.
What are your post-graduation plans?
I will be completing a residency at the San Francisco VA Medical Center in Ocular Disease with some low vision rehabilitation, medical contact lenses, and acute care sprinkled in with the program. I am excited to return home and bring back my fast-talking, fast-walking New York swagger.
What advice would you give new students at the College?
The library staff is tremendously nice; make a point to get to know them. They have seen it all over the years and have some keen insight as well as great stories. The best and coldest water fountain in the building is in the library too. Break up your long study marathons with a nice outdoor walk—it will help everything stick better. And lastly, show kindness to everyone you see!