THE JOSH WALLMAN, PHD MEMORIAL RESEARCH AWARD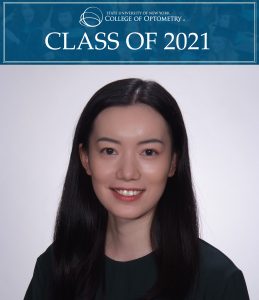 Keying Yan was 12 years old when she journeyed from China to the United States with her mother, who was working on her post-doctorate at Southwest Medical Center in Texas. What was to be just a year-long visit turned into a new place to call home. "I ended up falling in love with the country and decided to continue high school and college here. Little did I know that my life would be forever changed." 
While in undergraduate study, Yan immersed herself in research activities at a genetic lab on campus and desired to engage that affinity for investigation and discovery in her chosen profession. The field of optometry fit Yan's vision for the future, allowing her to expand her experience in clinical study through participation on projects with her College mentor, Dr. Mark Rosenfield, and the American Academy of Optometry while also working with patients who benefit from the translation of research into improved care and innovation. Recipient of The Josh Wallman, PhD Memorial Research Award, Yan reflects on her time in training at SUNY Optometry.
Degree: Doctor of Optometry/Master of Science
Hometown: Changsha, China
Undergraduate Education: University of Colorado Boulder, B.A. in Molecular, Cellular, Developmental Biology
What draws you to optometry?
During my anatomy class in high school, we dissected a pig eyeball. I was amazed that the eyeball was bigger than I thought! During the dissection, we slowly removed parts of the eyeball and isolated different structures like the lens and iris. I believe it was the day that planted the seed of becoming an eye doctor.
What is your fondest memory of your time at the College?
I loved all my time at SUNY Optometry. If I have to pick one or two, it would be Eyeball and Halloween party!
How did your classmates shape your experience?
I loved all my classmates! Their love and support were the best part of my four years. I was lucky to make so many life-long friends, and I will forever cherish them.
What was your favorite course?
Favorite class was Ocular Disease. It was what got me interested in my residency specialty.
What are your post-graduation plans?
I'll be continuing my education as a resident at BronxCare Hospital.
What advice would you give new students at the College?
Enjoy the next four years; it's going to be an epic experience!