ESTHER J. WERNER MEMORIAL AWARD FOR ACADEMIC EXCELLENCE
DR. MAX COHEN MEMORIAL AWARD FOR VOLUNTEER COMMITMENT TO COMMUNITY SERVICE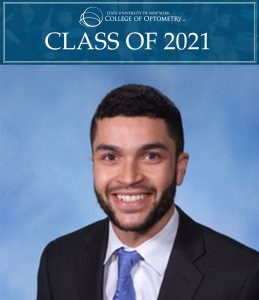 The journey from student to clinician in optometry for Raymond Bryant Farmer is rooted in his dedication to service and scholarship. As president of the SUNY Optometry chapter of NOSA (National Optometric Student Association), Farmer spearheaded and supported initiatives to connect optometric care to communities in need and boost diversity and inclusion efforts at the College, including the creation of the Inspiration Wall for Black History Month and the Black History Month Spotlight showcasing the achievements of College-affiliated optometric professionals of African American descent. Said Farmer of his student activism: "Becoming a doctor can put you in a position to extend your influence to the greater community and give back in many ways."
In addition to outreach activities on and off-campus, Farmer's academic pursuits and achievements include the Dr. Nathan and Laura Millman Scholarship and becoming a 2018 National Eye Institute Summer Research Fellow, a program that introduces optometry students to basic, translational, and clinical vision research. Recognized for his accomplishments with the Esther J. Werner Memorial Award For Academic Excellence and the Dr. Max Cohen Memorial Award For Volunteer Commitment to Community Service, Farmer looks forward to making an impact in the clinic and all communities of color and culture as a new doctor of optometry.
Degree: Doctor of Optometry
Hometown: Boston, MA
Undergraduate Education: Union College, B.S. in Biology, Minor: Psychology
What draws you to optometry?
I love optometry because it's a profession that rewards personal connections with individuals. Patients afford more information and are more likely to be compliant with your recommendations when you get to know them. I constantly find myself laughing with patients or hearing exciting stories while doing my best to enhance their visual experience in life. It's a win–win.
What is your fondest memory of your time at the College?
Honestly, the SUNY Optometry Talent Shows. I was blown away every time.
How did your classmates shape your experience?
The Class of 2021—the best, hands down. Early on, I sensed the supportive/non-competitive nature that is genuine to our class. We shared so many study tools, feelings of insecurity, and uplifting messages that ultimately paved the way to my success at SUNY Optometry. If it weren't for the support of my class and the amazing vibe that we collectively exude, I do not know where I'd be.
What was your favorite course?
It's a split between Ocular Disease I and General Pharmacology.
What are your post-graduation plans?
I'm pursuing a Residency in Ocular Disease/Primary Care at the VA Boston Medical Healthcare System.
What advice would you give new students at the College?
I've been titled "Questions Master" among my class a few times, and I encourage you to do the same. That being said, be mindful of the class flow, and by no means should you be disruptive—but this is your time to learn. Leave no stone unturned and you will be rewarded with a solid foundation that will help you excel in the future.