IRA GOLDFARB MEMORIAL AWARD FOR EXCELLENCE IN LOW VISION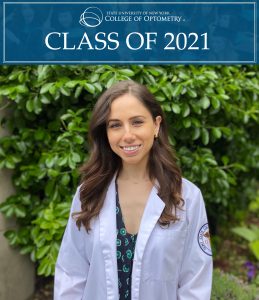 Rochelle Fleisher grew up listening to her mom, a nurse practitioner, tell exciting stories of her time as a nurse in the ICU. "She taught me how the human body works and that every organ system is interconnected," said Fleisher. "I've always admired her passion and drive. I knew early on I was meant to care for and connect with patients just like she does, but I just had to figure out how." Fleisher began her journey into healthcare as a volunteer EMT during high school, followed by clinical research in college. Ultimately, her interest in the visual system peaked while studying integrative neuroscience, which led to her work at a local optometry practice. It was alongside optometrists that she felt most comfortable and eager to learn, and the rest was history! Recipient of the Ira Goldfarb Memorial Award for Excellence in Low Vision, Fleisher reflects fondly on her time in training at the College as she looks forward to improving patients' lives as a new optometrist.
Degree:  Doctor of Optometry
Hometown: Marlboro, New Jersey
Undergraduate Education: Fordham University – B.S. Integrative Neuroscience, Minor: Anthropology 
What draws you to optometry?
Optometry is truly transformative for both the doctor and patient. The ability to see is a privilege we often take for granted. While we are treating eyes, we are also taking care of the entire body. There are so many systems at work, so the smallest details end up being significant. As an optometrist, I get the chance to change someone's world within minutes. My patients leave more confident and ready to live to their fullest potential, while I leave knowing I've made a real difference.
What is your fondest memory of your time at the College?
My mission trip with SVOSH! I traveled to Panama and provided eye care to patients in underserved communities of rural Central America. The trip was not only enjoyable but also so gratifying. I loved meeting so many different people while learning more about optometry and health care. I can't wait to continue the tradition of using my expertise to deliver care to those in need.
How did your classmates shape your experience?
I could not have done the last four years without them! We spend so much time together and have seen each other at our best and worst moments. My classmates quickly became some of my biggest motivators and best friends.
What was your favorite course?
I loved all our Ocular Disease courses. They were the first classes that made me feel more like a doctor than a student. I still use those concepts and notes in the clinic today!
What are your post-graduation plans?
I'm very excited to be pursuing a residency in Primary Care/Ocular Disease at The Eye Institute of Pennsylvania College of Optometry.
What advice would you give new students at the College?
When school gets tough, remember why you started. You're not just here to study; you're learning how to care for your future patients!