GP LENS INSTITUTE CLINICAL EXCELLENCE AWARD
OUTSTANDING CLINICAL PROFICIENCY IN CONTACT LENSES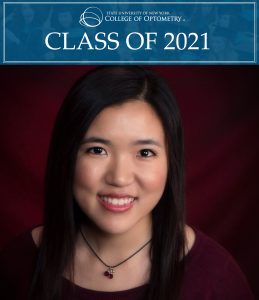 Family and function paved the road to becoming an optometrist for Suzy Chen. "My mom is an ophthalmologist, so I was exposed to the eye care field at a young age," she said. "My time working as a tech for a busy dry eye practice while I was in college solidified optometry as something I could take on as a career." While at SUNY Optometry, Chen combined study in class and the clinic with research to enhance optometric practice and patient care, including her work as lead author of award-winning scientific posters that were recognized at the 2020 and 2021 Global Specialty Lens Symposium. Recipient of this year's GP Lens Institute Clinical Excellence Award Outstanding Clinical Proficiency in Contact Lenses, Chen is thankful for the support of peers and professors at the College and perseverance and passion for helping her to achieve her new role as a doctor of optometry.
Degree: Doctor of Optometry
Hometown: China
Undergraduate Education: Boston College, B.S. in Chemistry
What draws you to optometry?
I realized that optometrists do so much more than just prescribing glasses, and I could feel the kind of impact our care can have on our patients.
What is your fondest memory of your time at the College?
My fondest memory during my time at SUNY Optometry was the White Coat Ceremony. It was nice to celebrate our transition from student to clinician with friends, families, and faculty.
How did your classmates shape your experience?
Our class has been through a lot, and we definitely got through the tough times together. I learned and grew so much over the past four years. But my greatest takeaway is the lifelong friendships and connections that I built along the way.
What was your favorite course?
My favorite course was Dr. Sharon Keh's elective on the scleral lens. I enjoyed learning the intricacies of scleral lens fitting.
What are your post-graduation plans?
I will be completing an Ocular Disease residency in the VA Maryland Healthcare System at Perry Point. I look forward to expanding my knowledge base and strengthening my clinical skills to manage ocular diseases more confidently and comfortably! 
What advice would you give new students at the College?
My advice is to find your passion and do the things you love. Optometry school goes by fast, so enjoy the journey and embrace every opportunity presented to you!