WILLIAM M. EISENBERG MEMORIAL AWARD (SPONSORED BY ALCON)
EXCELLENCE IN OCULAR DISEASE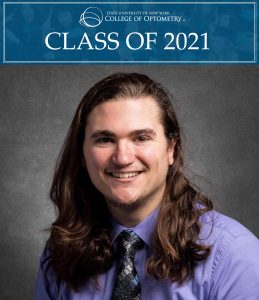 New SUNY Optometry alum Stephen Dellostritto is a believer in pushing beyond your boundaries for personal growth and success. "I love to travel and put myself in uncomfortable situations because I was such a shy, reserved child. I needed to break that." Starting in undergraduate study, Dellostritto decided to step out of his comfort zone one adventure at a time, including as an exchange student in California, travel through Europe, a mission trip to Panama, and a host of other eye-opening experiences. By way of his journey at SUNY Optometry, he realized that he enjoyed research and teaching in addition to the clinical atmosphere that an academic institution had to offer, which led to his decision to remain at the College for post-graduate work. For his commitment to study, service, and innovation in optometry, Dellostritto is honored with the DR. WILLIAM M. EISENBERG MEMORIAL AWARD Excellence in Ocular Disease, sponsored by Alcon.
Degree: Doctor of Optometry
Hometown: Hoboken, New Jersey
Undergraduate Education: Ramapo College of New Jersey, B.S. in Biology
What draws you to optometry?
During my undergraduate time, I worked for many optometrists and was amazed at the various ways optometrists can be of service to their patients, from dry eye and vision therapy to treating glaucoma.
What is your fondest memory of your time at the College?
It's tough to choose one, but I'd say it's between my first Eye Ball and the mission trip to Panama. Eye Ball was such a fun night to dress up, let loose with faculty and classmates, whereas the mission trip was such a humbling experience to provide free eye care to those who aren't fortunate enough to have access to it.
How did your classmates shape your experience?
My classmates were a great support system! I always felt like I had someone to turn to if I needed something.
What was your favorite course?
Ocular disease! It was challenging and overwhelming most of the time but so interesting to learn about the vast problems that can occur in the eye by educators so passionate about teaching the material.
What are your post-graduation plans?
A combined master's residency then hopefully a career in academia!
What advice would you give new students at the College?
Keep asking questions, push your limits, and absorb as much information as you can! If you need help, don't hesitate to ask, and always make sure you're making time for things that make you happy.