Dr. Areke Ogbonna and Dr. John Samssedi spent a month on campus to learn the intricacies of optometric practice in the United States.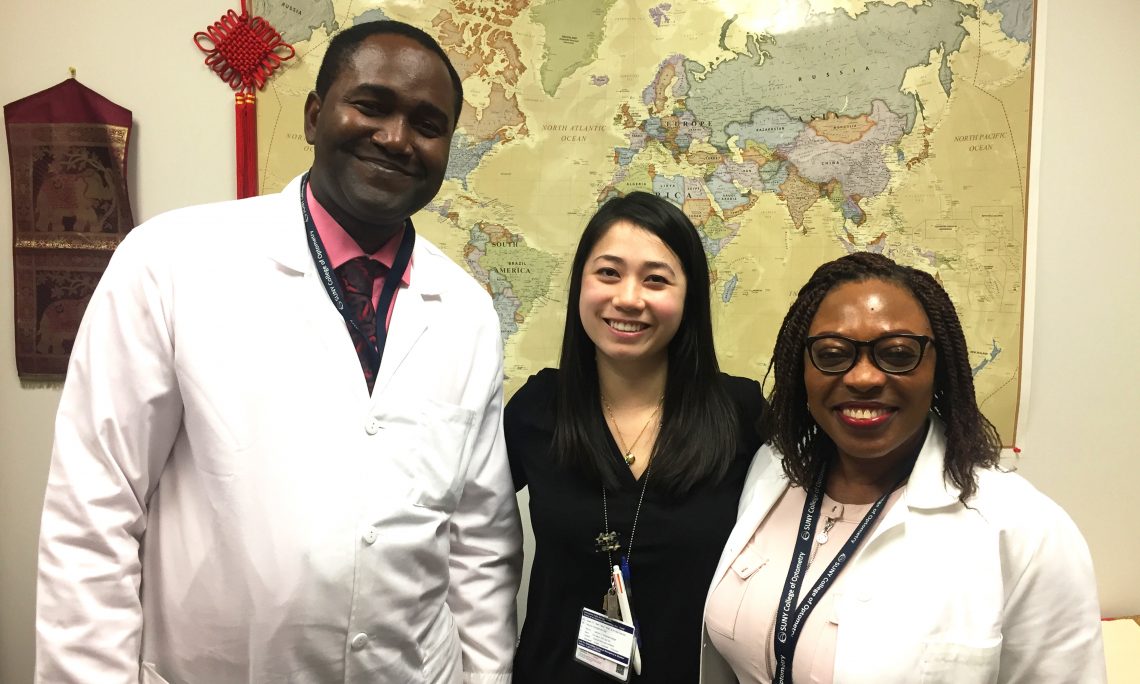 Members of the SUNY Optometry community may have noticed a few new faces on campus as the Center of International Programs hosted two optometrists from the Nigerian Optometric Association (NOA), Lagos Chapter through the College's new Clinical Observation Program.
Dr. Areke Ogbonna of Requis Eye Care and Dr. John Samssedi of Ocuville Eye Center were on campus March 4 through 29 to learn how optometry is practiced in the United States. Dr. Jennifer Hue, assistant clinical professor and international programs coordinator at the College, considers the initiative an important collaboration with the NOA.
"This program will help enhance the exposure of optometric specialties that are much needed in Nigeria, such as low vision, contact lens, glaucoma and vision therapy," says Dr. Hue. "The scope of practice in Nigeria is level four per World Council of Optometry standards, which is equivalent to the scope in the U.S., so they would be able to readily apply much of what they learn here."
Dr. Samssedi says his visit was driven by a hunger to learn more. "I just knew that there's a lot more I could give my patients and society, and I found SUNY Optometry has what it takes to move me further," he says. "Having the opportunity to interact with some of the finest minds in the eye care industry is something I wouldn't trade for anything."
Dr. Ogbonna cites similar reasons for making the trip. "It was for innovation and growth. Unless one tries something beyond what one has already mastered, one can never grow," explains the 25-year industry veteran. "I took the opportunity to learn new skills and improve myself. I also wanted to learn how practices are run [in the U.S.] and how they get access to funding as compared to my country, where setting up a practice is largely accomplished through personal savings."
As they return home, the doctors reflect on their professional achievements.
"I'm most proud of being able to reach as many children as possible to provide eye care services. The more children we can get to have good vision, the more fulfilled we are as optometrists," says Dr. Samssedi. "I'm also proud of being able to help optometrists in Lagos focus on being more relevant in our communities."
Dr. Ogbonna is buoyed by her work leading a team of 160 optometrists, ophthalmologists, pharmacists and administrative volunteers to treat 3,000 people as part of the Lagos Sees initiative. "The focus of the program is to give free eye care services, free glasses, medication, treatment and counseling to people who ordinarily cannot afford it," she says. "The ecstatic look on the faces of the recipients is enough reward. This is what optometry is about: helping others to realize their goals by giving them access to good vision."
Media Contact: Amber E. Hopkins Tingle, 212.938.5607, amber@sunyopt.edu