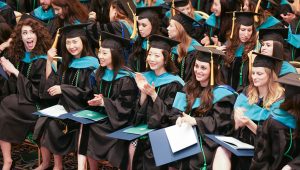 NEW YORK, May 26, 2017 – The State University of New York (SUNY) College of Optometry held its 43rd commencement ceremony on Thursday, May 25.
Hundreds gathered at the Roosevelt Hotel in midtown Manhattan to witness the College grant 101 degrees and certificates, including the OD, PhD and MS in vision science, MBA in health care leadership, and advanced certificate in optometry business management.
Keynote speaker Dr. Paul Sieving, an internationally renowned clinical neurophysiologist and director of the National Eye Institute at the National Institutes of Health, commended the graduates for completing the rigorous SUNY Optometry curriculum.
"This school is difficult to get into and you have worked hard to get out," he said to the amusement of the audience. "However, I hope you are not done."
Dr. Sieving, who also received an honorary Doctor of Science during the ceremony, endorsed continued learning, professional growth, and extensive collaboration with colleagues. He urged the Class of 2017 to be observant in their practices and alert for new and unknown conditions to expand the profession's knowledge base.
"Society places great trust in you. Always keep your patients first and foremost in your professional lives."
Honorary degree recipient Dr. Max Gomez, an award-winning medical reporter for WCBS-TV, received an honorary Doctor of Humane Letters. He also encouraged the Class of 2017 to continue to learn after Commencement and specifically addressed service as one's duty.
"You've been given something that many in this country and indeed the world can only dream about – the ability to make a difference," said Dr. Gomez, who has collaborated with the College for nearly three decades to bring critical eye and vision care issues to the attention of television audiences. "You owe us, all of us, a difference. Aspire to leave this world a little better than when you arrived."
Class of 2017 president Allison Kay LaRue provided greetings on behalf of her classmates and thanked their predecessors for paving the way for the next generation to exercise a fuller scope of practice.
She reminded her classmates that the past four years have not only shaped them into doctors, but also into stronger versions of themselves, poised to become leaders in the profession.
"Take the time to breathe, reflect on your abilities, and be confident as you go out there into the work field because each of you is going to make a great optometrist," said Dr. LaRue.
SUNY Optometry President David A. Heath acknowledged that the Class of 2017 enters their professional careers during both a time of increasing demand for their knowledge, skills, and compassion and a period of great uncertainty regarding the future of the health care delivery system.
"The fundamental question of what kind of society we want to be is being debated daily in Washington, in our state houses, and in our communities nationwide," said President Heath. "I truly hope that as you go forth you will lend not only your talents as providers, but your voices as passionate advocates for your patients and their right to care."
The Presidential Medallion was presented to Dr. Ralph Gundel, an alumnus and associate professor whose teaching, research, and patient care have focused on contact lenses.  Dr. Gundel will retire this summer after 28 years as a member of the College faculty.
Dr. Andrea Thau, president of the American Optometric Association, associate clinical professor emerita, and alumna, received the Benjamin Franklin Society Award for her contributions to the profession of optometry and the College.
The New York State Optometric Association's Optometric Educator Award was presented to Dr. Julia Appel, an associate clinical professor, adult primary care practitioner, and alumna.
WATCH CBS New York's coverage of the College's 43rd Commencement
Media Contact: Amber E. Hopkins-Jenkins, 212.938.5607, aehopkinsjenkins@sunyopt.edu