NEW YORK, May 24, 2018 – The State University of New York (SUNY) College of Optometry held its 44th commencement ceremony on Thursday, May 24.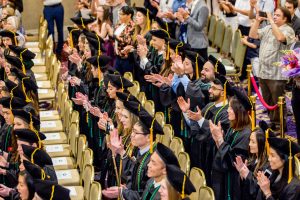 Hundreds gathered at the Roosevelt Hotel in midtown Manhattan to witness the College grant 110 degrees and certificates, including the OD, PhD and MS in vision science and advanced certificate in optometry business management.
SUNY Optometry President David A. Heath noted that the Class of 2018 enters the workforce amid uncertainty about the future of the health care delivery system. "There is an increased demand for your knowledge, skills and compassion," said President Heath. "I am confident that you will serve your patients well."
SUNY Trustee Eunice A. Lewin presented honorary degrees to Dr. Kovin Naidoo, chief executive officer of the Brien Holden Vision Institute, and Dr. Frank Schaeffel, professor of neurobiology of the eye at the Institute of Ophthalmic Research at the University of Tübingen. The SUNY Board of Trustees votes and grants approval for all honorary degree recipients.
In his keynote address, Professor Naidoo, who received the honorary Doctor of Humane Letters, delivered a call to action for eye care practitioners "at a crossroads" due to the increase of myopia, or nearsightedness, in both developed and developing nations. "By 2050, half of the world's population will be [nearsighted]," he said, adding that children learn better and adults earn better with good vision. "Your generation has to carry the burden of addressing this public health crisis."
An internationally celebrated public health leader, optometrist, academic, former anti-apartheid activist and political prisoner, Professor Naidoo described the Class of 2018 as an "unencumbered generation" free to think and express themselves. He encouraged them to proceed into their careers with love, hope and a bit of rebellion. "We need more ordinary people doing extraordinary things. Small contributions can change our world," he said.
Professor Schaeffel received the honorary Doctor of Science for his significant impact on the understanding of visual regulation of eye growth and the development of myopia for 33 years. He discussed an appreciation for research due to its unpredictability.
"You can never predict what you'll find, but this is not a frustrating experience," said the world-recognized vision scientist. "In fact, there's a great chance that you can get a 'big fish' out of this system and change things."
Dr. Jay Cohen, professor emeritus, received the Presidential Medallion to a standing ovation by the SUNY Optometry faculty and Class of 2018. A 1978 alumnus, Dr. Cohen is a low vision and vision therapy practitioner and academic who has served the College for four decades.
Dr. Kathryn Brogan, president of SUNY Optometry's Class of 2018 for three years, thanked the faculty, class council, family and friends for four years of support. "In the words of Elle Woods: 'We did it!'" she announced to her classmates to applause.
Media Contact: Amber E. Hopkins-Jenkins, 212.938.5607, aehopkinsjenkins@sunyopt.edu