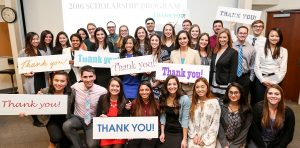 SUNY Optometry and the Optometric Center of New York (OCNY) recognized 35 exceptional current students during the College's annual Scholarship Presentation Program on Wednesday, October 26.
Faculty members and many donors were on hand to present the awards. Beneficiaries were selected by the College according to donors' criteria.
For example, Dennis Gehr, an OCNY trustee, established the Dennis and Lesley Gehr Scholarship to offer financial assistance to a deserving City University of New York (CUNY) system graduate. This year's recipient, Vanessa Bedoya, is a 2016 alumna of The City College of New York.
"I was fortunate to attend City College for free," says Gehr, who was one of the first CUNY system graduates. "This scholarship marries my experience with the relationship my wife's aunt and uncle [Adolph and Ruth Schnurmacher] began with SUNY Optometry in the 1970s."
The following students were presented with scholarships during the event:
Milton Scholarships
Joanne Chan, Class of 2018
Loren Franke, Class of 2017
Celia Gong, Class of 2017
Kimberly Nguyen, Class of 2018
Lauren Rabon, Class of 2017
Amanda Crane, Class of 2020
Max Paschall-Zimbel, Class of 2020
Scott Tasker Folsom Scholarships
Emily Freeman, Class of 2018
Jennifer Nguyen, Class of 2018
Tristan Barrueco, Class of 2018
Alumni Scholarships
Irene Byun, Class of 2020
Raja Azim, Class of 2020
Alumni Memorial Scholarship
Emily Ellingson, Class of 2018
NYSOA Dr. Alden Haffner Scholarships
Meredith Stallone, Class of 2018
Sarah Gleason, Class of 2018
Dr. Mark S. Feder Scholarship for Clinical Excellence in Primary Care
Karen Levy, Class of 2017
NJOA Scholarship
Hirali Patel, Class of 2020
Dr. Nathan and Laura Millman Scholarships
Mark Ossi, Class of 2019
Jason Grygier, Class of 2019
Kyra Dorgeloh, Class of 2019
Lauren Rosato, Class of 2019
Dr. Jerome Weiss Scholarship
Maryam Nizami, Class of 2017
Mary and Samuel Gurkin Memorial Scholarship
Natalie Pare, Class of 2020
Philip & Sylvia Soden Memorial Scholarship
Kirsten Johnson, Class of 2018
Dr. James F. Kelly Scholarship
Mary Botelho, Class of 2017
Dr. Harold Solan Scholarship
Yohanna Emun, Class of 2019
Harold M. Spielman Scholarship
Sarah Lung, Class of 2020
Barbara Saltzman Scholarship
Erin Lutley, Class of 2020
Dennis and Lesley Gehr Scholarship
Vanessa Bedoya, Class of 2020
P. Gregory Hess Scholarship
Kathryn Brogan, Class of 2018
Fred Friedfeld Memorial Scholarship
Kevin Weber, Class of 2020
Dr. Sanford and Claire Levy Scholarships
Prissilla Issa, Class of 2020
Nichole Pollard, Class of 2020
Bryan O'Neil, Class of 2018
Jeff White Memorial Scholarship
Sarah Gleason, Class of 2018