Heidelberg Engineering's OCTA module will help clinicians diagnose ocular abnormalities noninvasively.
SUNY Optometry's Clinical Vision Research Center (CVRC) sits at the intersection of government-, foundation- and industry-sponsored research to advance vision care for all. One of its latest projects is set to change the way doctors diagnose and manage ocular abnormalities.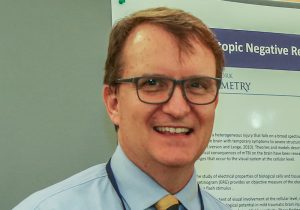 The Heidelberg OCT-VIS Study, conducted from April 2018 to August 2018, led to 510(k) clearance from the United States Food and Drug Administration on September 17 for Heidelberg Engineering's Optical Coherence Tomography Angiography (OCTA) module. The noninvasive imaging technology is now available to use with SPECTRALIS diagnostic imaging devices to provide 3-D visualization of perfused ocular vasculature.
Dr. Mitchell Dul served as the principal investigator on the study, with sub-investigators Dr. Danielle Iacono, Dr. Daria Borah, L. Wayne Spencer and Valerie Leung, who was also the study coordinator. The study involved testing the OCTA module's ability to assess the flow of blood through vessels at the back of the eye in patients with healthy eyes and retinal vascular diseases, including age-related macular degeneration and diabetic retinopathy.
Created by privately-held Heidelberg Engineering, the new module is specifically designed to upgrade the capabilities of the SPECTRALIS imaging device, enabling clinicians to examine fine capillary networks with a lateral image resolution of 5.7 µm/px and combine OCTA images with structural OCT, scanning laser imaging and dye-based angiography. The result is a more comprehensive understanding of ocular abnormalities and enhanced patient care.
Media Contact: Amber E. Hopkins Tingle, 212.938.5607, amber@sunyopt.edu