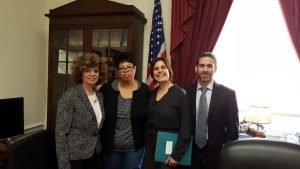 WASHINGTON, February 17, 2017 — Dr. Alexandra Benavente-Perez met with staffers for Sen. Charles Schumer, Sen. Kirsten Gillibrand, and Rep. Yvette Clarke during the Association for Research in Vision and Ophthalmology's Advocacy Day on Capitol Hill on February 17.
Organized by the National Alliance for Eye and Vision Research, the event engaged 21 domestic and international advocates to visit 36 congressional offices, particularly those of lawmakers with appropriations or authorization jurisdiction over the National Institutes of Health (NIH) and the National Eye Institute (NEI).
"This year, more than ever, we need to stand up for science and defend the institutions that support us, like the NIH and its NEI," says Dr. Benavente-Perez, an assistant clinical professor at SUNY Optometry who studies the role the peripheral retina and eye shape may have as predictors of future changes in refraction and the interaction between ocular size and vascular physiology.
Though the advocates visited Capitol Hill early in the FY2018 appropriations process, their NIH and NEI funding requests also addressed FY2017, as Congress has not finalized FY2017 spending and the federal government is operating under a continuing resolution until April 28, 2017. They emphasized the detrimental effects of delayed appropriations and urged lawmakers for a $2 billion increase to NIH base funding for FY2017 and FY2018 in addition to supplemental funding for specific projects in the 21st Century Cures Act.
Dr. Benavente-Perez believes events like Advocacy Day ensure that the main funding bodies for eye and vision research will continue to be supported by the federal government. "It was fascinating to learn what the lobbying process involves and how to reach out to our legislators."
Media Contact: Amber E. Hopkins-Jenkins, 212.938.5607, aehopkinsjenkins@sunyopt.edu