ORLANDO, May 18, 2017 — SUNY Optometry OD/MS alumnus and current PhD student Dr. Kevin Willeford '14 has been named a 2017-18 John H. Schoen Ezell Fellow by the American Academy of Optometry Foundation (AAOF).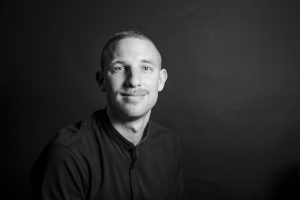 The Ezell Fellowship Program was established by the AAOF, a philanthropic organization which develops and provides financial support for optometric research and education, in 1949. The award recognizes and supports talented students who are pursuing advanced degrees in optometric research and education. Former Ezell Fellows have become deans and presidents of optometric schools and colleges and faculty members.
Dr. Willeford is currently studying visual processes and psychological states with electrophysiological methods. His work with Dr. Robert McPeek, an associate professor of biological sciences, aims to elicit the role(s) of the superior colliculus and frontal eye fields in programming of attentional processes and saccadic eye movements.
In addition to his SUNY Optometry degrees, Dr. Willeford received his BS in neuroscience with minors in chemistry and English from the University of Miami and is a Fellow of the American Academy of Optometry.
This year's eleven Ezell Fellows will be honored during the organization's annual luncheon at the American Academy of Optometry's Annual Meeting in Chicago this October.
Media Contact: Amber E. Hopkins-Jenkins, 212.938.5607, aehopkinsjenkins@sunyopt.edu