The pediatric optometrist is also a dedicated advocate for queer kids.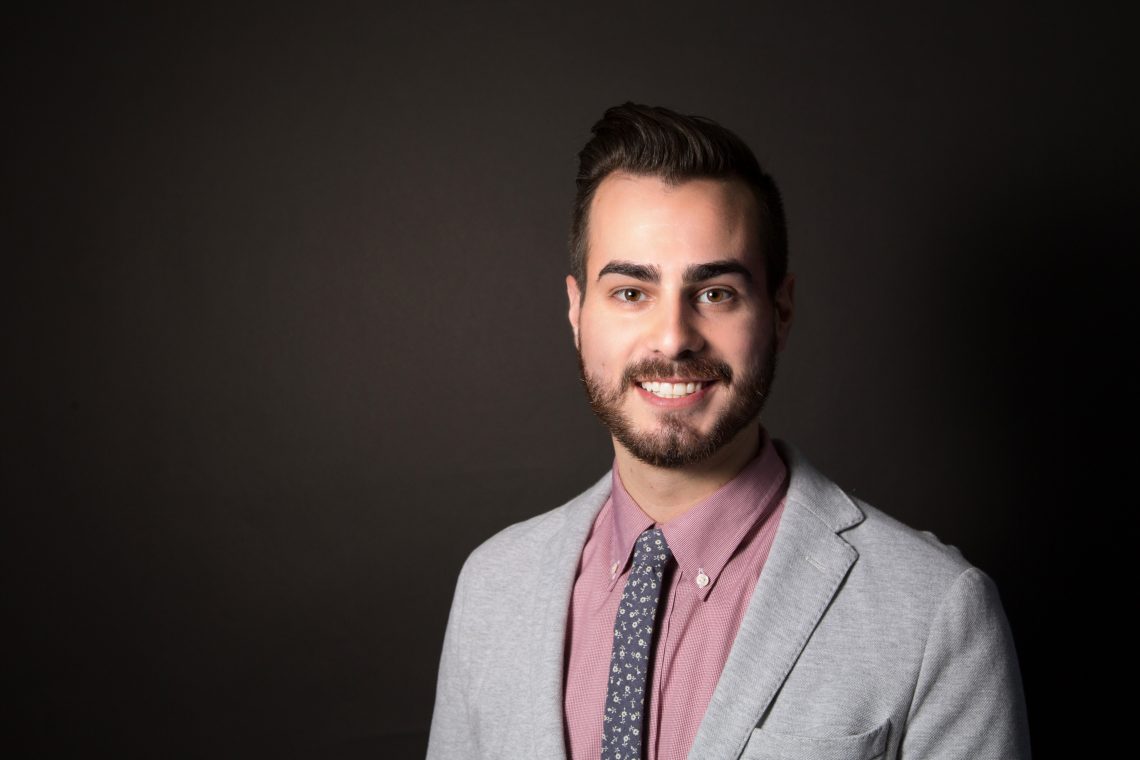 There are some core skills that all optometrists need to learn: how to perform a comprehensive eye exam, how to diagnose conditions, how to treat them. But Dr. Matthew Vaughn '14 knows that there is another skill that keeps his patients happy and healthy: a fantastic high five technique. "If I can't end an eye exam with a high five, I don't want to be a part of it," says the SUNY Optometry assistant clinical professor and instructor of record for pediatric optometry and vision development.
It's the perfect punctuation for a job well done, and Dr. Vaughn considers it the best thing about working with pediatric patients. "When I'm examining adults, I feel like I'm acting. I'm reserved and professional, as a doctor should be. But my true personality shines when I examine kids," he says. "Children don't respond well to a stern, serious demeanor. They respond better if you get on their level, change the way you administer tests to make them more like games, and attempt to make the experience at the eye doctor an enjoyable one."
The Brick, New Jersey-native says that there's really only two downsides to working with children: "Keeping all that energy up for a whole work day requires quite a bit of caffeine! They also hate drops; putting drops in never gets easy."
But he didn't know that back in high school when his mom asked if he'd ever considered being an optometrist during his annual exam. It was only a minor pivot form his first career love. "I remember playing 'school' a lot and demanding to be the teacher every time," Dr. Vaughn says. He started wearing glasses in the first grade, and his experience is key to his work. "As a moderately nearsighted person, my whole world dramatically changes when I put on my glasses or contact lenses; each day I am acutely aware of how much we truly rely on vision. Enhancing and preserving people's vision is such an important job because without it, getting around in the world becomes so much more difficult."
Dr. Vaughn says the work feels especially important for youth populations, because they literally need an extra set of eyes. "While adults notice when their vision changes (most of the time), children don't know any different. What they see every day they consider to be normal," he says. "So my job is to recognize when a child has poor vision and to try to make it better. Every child deserves to see well, and my mission is to do my best to give each child I examine that opportunity."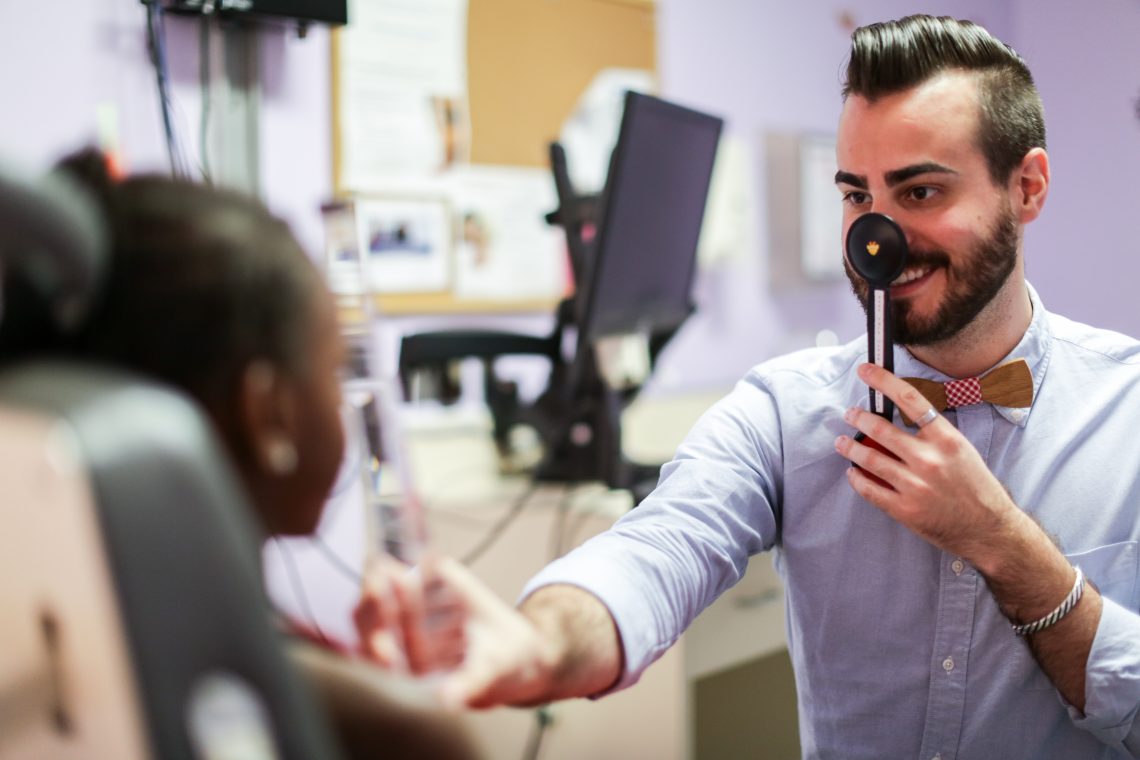 His journey to provide that care brought him to SUNY Optometry, via the seven-year partnership between The College of New Jersey. After finishing in 2014, he completed his pediatric residency at the college as well. He worked at various pediatric patient settings before coming back to teach and see patients at the College's University Eye Center. It's work he takes seriously, and the community has taken notice.
"This past December, I was awarded the Faculty Community Spirit Award, which I took as such a great honor," he says. "I try to put positivity and good vibes out into the universe as much as possible, and to know that my colleagues and friends recognized that meant a lot to me. It just goes to show that a little love can go a long way."
When he's not working, Dr. Vaughn has two passions: singing and advocating around issues that impact the lived experiences of people in the LGBTQ+ community.
After a lifetime of singing, he is now second tenor in the Gay Men's Chorus and adores it. "I was in musical theater, marching band and chorus in high school and an a cappella group throughout college. But when I moved to NYC after college, I stopped performing. I no longer had time for extracurriculars; optometry school is a full-time job!" he says. But graduation and a stable job eventually granted him more time. "I needed some musical outlet other than seeing as many Broadway shows as possible. One of my friends from high school had been accepted into the chorus, so I decided to audition, and got in!" His favorite song to sing is from his first concert, back in 2018: a choral arrangement of Lady Gaga's "Edge of Glory".
While the chorus gives him joy now, he says that he wasn't always so comfortable embracing his full self—hence, the advocacy. "I grew up thinking I had to hide some of my passions and the way I truly felt inside, so much so that I was in deep denial about who I was until my early twenties. Kids shouldn't feel like they have to hide their true selves. However, I did grow up with the privilege of being born a cisgender white male, which provided me many opportunities that don't come so easily to others in the LGBTQ+ community," he says. "If one might think being a gay white male is hard, just try being a queer person of color in this country during this troubling time. No one should fear for their life in the United States just because of who they are or the color of their skin. Through outreach gigs with the chorus, we are sharing our experience with the world through song in hopes for complete acceptance and equality."
Media Contact: Amber E. Hopkins Tingle, 212.938.5607, amber@sunyopt.edu