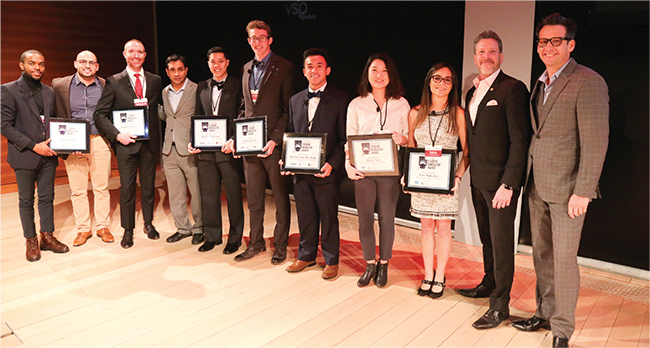 NEW YORK, March 16, 2018 — Seven students, representing four schools of optometry, including SUNY Optometry's Elkie Fung and Tara Mahvelati, were recognized as this year's Student Innovator of the Year Award recipients during the Vision Monday Summit at TheTimesCenter in midtown Manhattan on Wednesday, March 14.
Ms. Fung and Ms. Mahvelati presented Can-See, a customizable, automated eye chart that is, "portable, adaptable and limitless." Can-See aims to free ECPs from the restrictions of the manual wheel of eye charts and can be taken anywhere.
Fung and Mahvelati's vision is to integrate a bigger projector and an app, making refraction and binocularity testing as simple and as efficient as possible. Can-See also contains features that are rarely, if ever, used for testing, such as isolating, crowding bars and contrasting. There is also added a language component so ECPs can provide basic instructions in multiple languages based on the chart they selected.
Named after Rick Bay, former publisher and president of Review of Optometry and Review of Ophthalmology, the Foundation's Student Innovator of the Year award aims to support optometry's next generation.
"It was an experiment by Jobson, the Rick Bay Foundation, Essilor and the SUNY College of Optometry, that encouraged students at SUNY to contribute innovative ideas, and we picked a winner who had the opportunity to present their idea on stage," said Marc Ferrara, CEO Information Services Division, Jobson Medical Information. "Out of that, we had numerous other companies say that they would like to support the program and today, we have four schools of optometry to be represented, thanks to our four sponsors: Essilor, Luxottica, VisionWeb and VSP Global."
Media Contact: Amber E. Hopkins-Jenkins, 212.938.5607, aehopkinsjenkins@sunyopt.edu