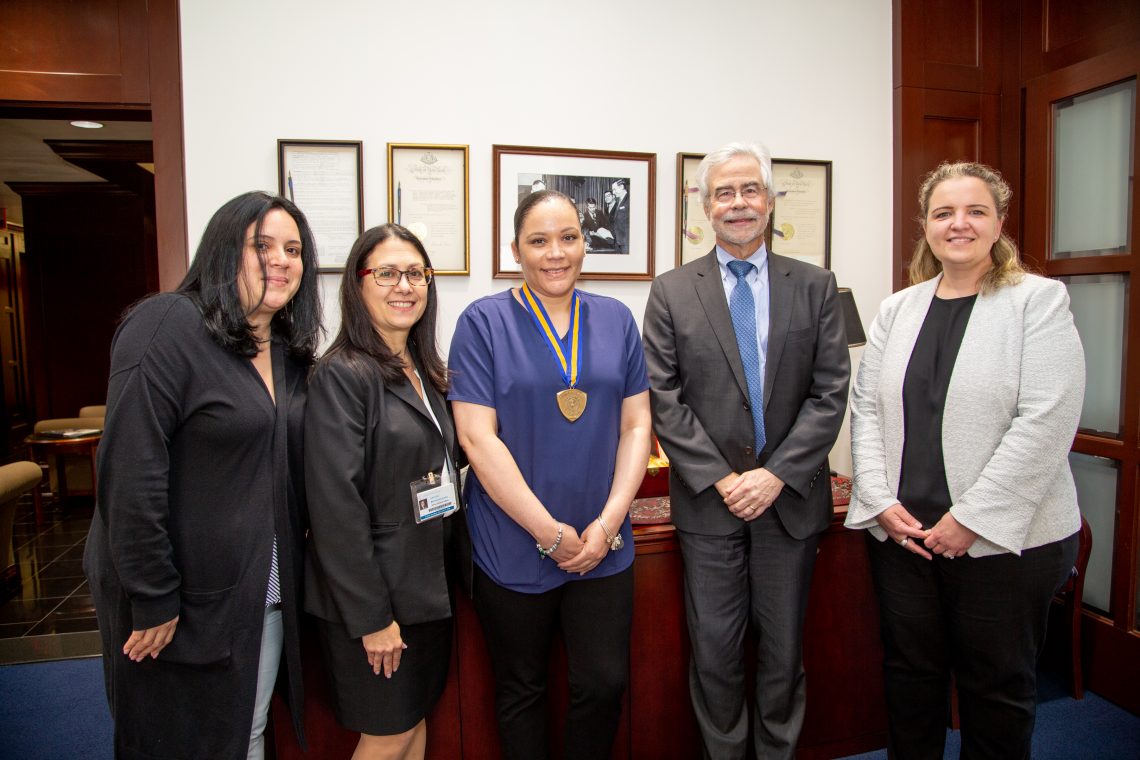 ALBANY, June 5, 2019 — Kali Berrios, an optometric technician for the contact lens service at SUNY College of Optometry's University Eye Center (UEC), has received the SUNY Chancellor's Award for Excellence in Classified Service.
The Chancellor's awards are presented annually to faculty and staff in seven categories: Faculty Service, Librarianship, Professional Service, Scholarship and Creative Activities, Teaching, Adjunct in Teaching and Classified Service. The honor provides SUNY system-wide recognition for consistently superior professional achievement and encourages the ongoing pursuit of excellence.
"Kali is a phenomenal asset," said Dr. Eva Duchnowski, associate clinical professor and section chief of the UEC's contact lens service. "She is an exemplary employee who continuously demonstrates that she genuinely cares about the service provided to our patients. She is often complimented by our patients on her patience and excellent contact lens insertion and removal training sessions."
Ms. Berrios began her career as an eyewear consultant in 1999. She joined the UEC staff in 2014 and assists patients with insertions and removals for contact and prosthetic lenses.
"Kali's thorough documentation and communication style are a considerable help to doctors and interns during patients' clinic visits," said SUNY Optometry President David A. Heath. "She is a representation of a true patient advocate and ensures that no questions go unanswered and instinctively follows up when she sees a need."
The award also underscores SUNY's commitment to sustaining intellectual vibrancy, advancing the boundaries of knowledge, providing the highest quality of instruction and serving the public good.
Media Contact: Amber E. Hopkins Tingle, 212.938.5607, amber@sunyopt.edu