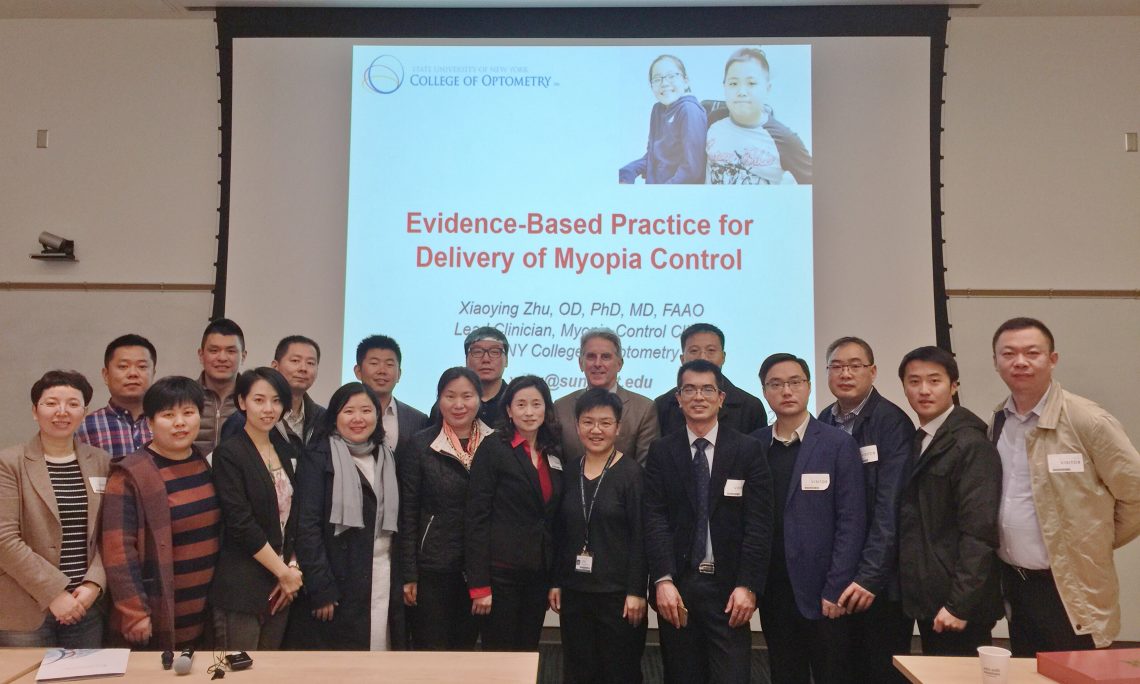 The College broadens its already global perspective as half of the world's population faces nearsightedness.
Faced with the sobering statistics that by 2050, half of the world's population could have myopia, or nearsightedness, the SUNY Optometry opened its Myopia Control Clinic in 2016. And now, in response to increasing prevalence in particular populations, the College is once again taking the initiative to be on the forefront of research-driven change.
In April 2018, the College hosted a symposium that focused on the rise of myopia in Asia, and especially China. A 2012 study estimated that 95 percent of university students in Shanghai are myopic.
"I think myopia is mostly caused by prolonged near work and lack of outdoor activities," says Dr. Xiaoying Zhu, the assistant clinical professor who leads the clinic. "It is increasingly competitive to enter good colleges or universities in Asia, so most children spend more than 14 hours per day studying. They also attend classes on weekends to improve their academic performance."
Nineteen myopia experts from China attended the symposium. Topics discussed provided an overview of the College and its collaborative programs in China, as well as evidence-based practices for delivery of myopia control. The expert attendees were clinicians and managers and discussed barriers—from a clinician's point of view (awareness, chair time and equipment) and from a parents' point of view (lack of awareness, means or resources and access to a practitioner). The symposium provided an opportunity to explore ways to overcome these obstacles, educate doctors and raise parents' awareness.
The symposium is not the only way the College addresses the global rise of myopia. There are two programs intended to build international partnerships. The Global Health Leadership Program educates Chinese medical students about eye care delivery in the U.S., while the Rising Stars Program was established in collaboration with Wenzhou Medical University. "Ophthalmologists from China learn about our OD program and eye care delivery in the U.S., including myopia control," says Dr. Zhu.
Understanding that early intervention is key in reducing myopia progression, Dr. Zhu and the other optometrists of the Myopia Control Clinic welcome visits from international clinicians. They believe the College must open its doors to teach—and learn from—the world to successfully combat the global condition.
To contact Dr. Xiaoying Zhu at University Eye Center's Myopia Control Clinic, call (212) 938-4015 or send an email to myopia@sunyopt.edu
Media Contact: Amber E. Hopkins-Jenkins, 212.938.5607, aehopkinsjenkins@sunyopt.edu