ALBANY, May 18, 2018 — Akeema Wilson, a university police officer at SUNY Optometry, has received the SUNY Chancellor's Award for Excellence in Classified Service.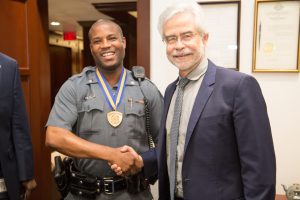 The Chancellor's Awards for Excellence are honors conferred to acknowledge and provide system-wide recognition for consistently superior professional achievement and to encourage the ongoing pursuit of excellence in five categories: faculty service, librarianship, professional service, scholarship and creative activities and teaching.
"Our faculty and staff educate, inspire and support our students to pursue their passions; they are the driving force on campus," said SUNY Chancellor Kristina M. Johnson. "Those we honor today are leading this effort through their commitment to their craft and their dedication to our students. I am proud to celebrate and honor this year's recipients."
Mr. Wilson, who joined the College as a university police officer in 2006, also received the SUNY Police Professional Service Award in November 2016.
"Although his responsibilities include the protection of the parents, students and employees on campus, Mr. Wilson ensures the smooth operations of the University Police Department," said SUNY Optometry President David A. Heath. "Officer Wilson is known as the ambassador of the department as his demeanor reflects diplomacy to effectively deescalate situations."
These awards underscore SUNY's commitment to sustaining intellectual vibrancy, advancing the boundaries of knowledge, providing the highest quality of instruction and serving the public good.
Media Contact: Amber E. Hopkins-Jenkins, 212.938.5607, aehopkinsjenkins@sunyopt.edu