NEW YORK, September 28, 2017 — Calori & Vanden-Eynden (C&VE), the design consultancy retained to create a new look for SUNY Optometry's renovated lobby, has received a 2017 Graphic Design USA American Health + Wellness Design Award for its work at the College. The award acknowledges outstanding graphic communication in traditional medicine and healthcare, holistic and alternative healing, and healthy lifestyles and nutrition.
The angular features of the lobby's ceiling, which was designed by Kliment Halsband Architects, provided a suitable backdrop for C&VE's bold graphic gesture. The patterns derive from the notion of refracted light and the three color palettes are taken from the College's logo.
The 3,000 square foot lobby also serves as a reception area for the College's University Eye Center, which is one of the largest eye care facilities in the country and serves more than 70,000 patients annually. With such a large and diverse patient roster, contrast, readability, and proportion were issues the firm considered during the design process. Eliminating obstructions, such as free-standing stanchion signs, was also critical to patient safety.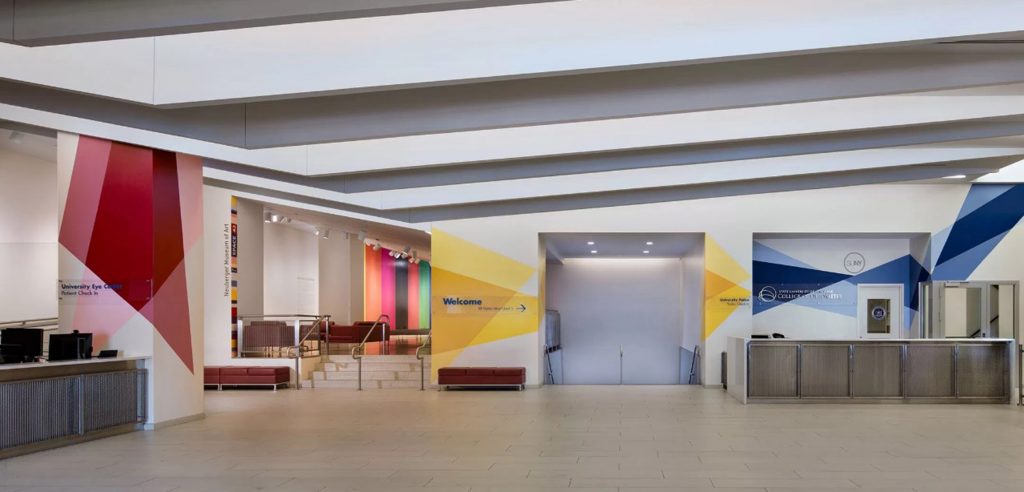 Media Contact: Amber E. Hopkins-Jenkins, 212.938.5607, aehopkinsjenkins@sunyopt.edu