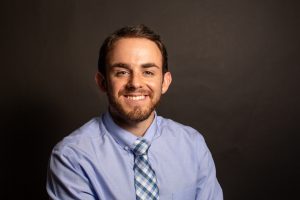 ORLANDO, FL, October 29, 2018 – SUNY Optometry third-year student Samuel L. Stack is a recipient of the 2018 J. Pat Cummings Scholarship from Johnson & Johnson Vision in collaboration with the American Academy of Optometry Foundation. The award recognizes a second- or third-year optometry student who demonstrates the ideal eye care standards of practice, achievement in both academic performance and extracurricular activities, and involvement with patients through internships, community service, and other volunteer activities.
Mr. Stack graduated from the University of Connecticut with a bachelor's degree in biological sciences. He is the son of SUNY Optometry alumni Dr. Andrew Stack, '85 and Dr. Thera Bowen, '87 and began working as an ophthalmic technician at Eye Physicians & Surgeons during his senior year of high school. "I wanted to be an optometrist from the moment I watched my mother fit a keratonic patient with an RGP lens and saw the patient's face light up because he could finally see clearly," he says.
Beyond the classroom, the Woodbridge, Conn. native is a member of Student Volunteer Optometric Services to Humanity and a Remote Area Medical Virginia volunteer. He has also volunteered at Moorfields Eye Hospital in London, UK and plans to join a private practice with an emphasis on specialty contact lenses upon graduation in May 2020.
Media Contact: Amber E. Hopkins Tingle, 212.938.5607, amber@sunyopt.edu