July 29, 2020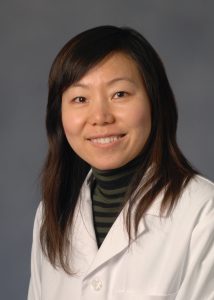 New York, NY—The State University of New York (SUNY) College of Optometry is pleased to welcome aboard new faculty member and Associate Professor, Jingyun Wang, PhD, who will teach the next generation of doctors while continuing to advance her research of normal and abnormal eye development in infants and children—a focus in pediatric vision for more than 20 years.
"It was not until my master's program in biomedical engineering that I was able to explore optometry as an area of interest and investigation," says Dr. Wang who began her training at the Tianjin Medical University in China. "In fact, my post-graduate work in vision development was in conjunction with the New England College of Optometry where I met Dr. Heath who was head of academic affairs. The advanced research in vision science in the states opened my eyes to the broad scope of the field."
Inspired by the experience, Dr. Wang earned a PhD in vision science at Indiana University School of Optometry, where she conducted studies of normal infant vision development with Dr. Rowan Candy. Later, Dr. Wang pursued post-doctoral training at the Pediatric Eye Research Lab with Dr. Eileen Birch at the Retina Foundation of the Southwest in Dallas, Texas. "Here I was able to research children with congenital cataracts, lazy eye, eye turn, and ROP (retinopathy of prematurity) as well as those with Down syndrome. I also studied how vision development is interrupted by eye diseases."
Following her fellowship, Dr. Wang assumed a position as an assistant professor at the Indiana University School of Medicine Glick Eye Institute, and later at the Salus University Pennsylvania College of Optometry, where she advanced to associate professor. She was awarded an R21 grant for her amblyopia treatment research by the National Eye Institute and awarded the University's first-ever Innovation in Education grant designed to advance teaching skills from The American Optometric Foundation (AOF). The author of nearly 50 peer-reviewed publications, Dr. Wang is a member of the Association for Research in Vision and Ophthalmology, the American Association for Pediatric Ophthalmology and Strabismus, and the International Council of Ophthalmology. She is also the recipient of numerous research grants and engaged in various collaborative efforts to advance understanding of eye development and treating eye diseases in children.
"At the College, I will continue to focus on amblyopia and ROP clinical translational research. I am very happy to join SUNY and be a part of a team of educators and clinicians with strong research backgrounds and an understanding of the importance of research to advance patient care."
For information about SUNY College of Optometry, including the state-of-the-art Barbara Saltzman Center for Pediatric Eye Care, please visit www.suny.edu.
Organization Contact: Adrienne Stoller, communications@sunyopt.edu, 212-938-5600

###
About SUNY College of Optometry

Founded in 1971 and located in New York City, the State University of New York College of Optometry is a leader in education, research, and patient care, offering the Doctor of Optometry degree as well as MS and PhD degrees in vision science. The College conducts a robust program of basic, translational and clinical research and has 65 affiliated clinical training sites as well as an on-site clinic, the University Eye Center.  SUNY College of Optometry is regionally accredited by the Commission on Higher Education of the Middle States Association of Colleges and Secondary Schools; its four-year professional degree program and residency programs are accredited by the Accreditation Council on Optometric Education of the American Optometric Association. All classrooms, research facilities and the University Eye Center, which is one of the largest optometric outpatient facilities in the nation, are located on 42nd Street in midtown Manhattan. To learn more about SUNY College of Optometry, visit www.suny.edu.