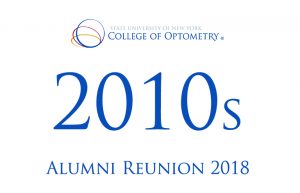 SUNY Optometry's most recent graduates may have matriculated less than a decade ago, but after the intense bonds forged during school, dedicated time together is long overdue. The class reunion ambassadors for the alumni of the 2010s anticipate a weekend that will mirror the spirit of the College—but with actual spirits instead of textbooks.
Last fall, Dr. Katie Brogan '18 was still enrolled at the College. But this October, she is a reunion ambassador excited to bring her classmates together. Dr. Brogan is an optometry resident at VA Health Care Systems in West Haven, Connecticut, and while it is the professional milestone of which she is most proud, she knows she did not get there on her own. "Without my classmates, I may not have survived optometry school. Being able to lean on them for support, both personal and academic,  was hugely integral in my success," she says.
Aside from the chance to see what everyone has been doing since May, Dr. Brogan cannot fathom why anyone would not come to reunion. "This is a party! At the Princeton Club! With your former classmates! What more reason do you need?" she asks.
The reunion ambassadors for the class of 2013, Dr. Quy Nguyen and Dr. Jennifer Hue, agree with Dr. Brogan. "If we don't take these opportunities to see each other every five years, when will we?" says Dr. Nguyen, who is director of career development and minority enrichment at the College.
Dr. Hue, who is now an assistant clinical professor at the College, knows that she got a lot more from SUNY Optometry than a first-rate optometry education—she got a community. "My classmates shaped my academic experience by making it a great learning environment," she believes. "The support in our personal and academic lives allowed us to focus and do well clinically. All of our successes in our careers stemmed from our experiences at SUNY Optometry."
As important as careers and classrooms are, both have fond memories of their time at the College that extend beyond academics. For Dr. Nguyen, those cherished moments include "a trip we took together to the Catskills for a weekend. We bonded over the outdoors, cooking and getting to know each other better."
Dr. Hue's most memorable time is much less of a Hallmark moment—though it did require the spirit of togetherness to survive. "I bonded with my classmates—who became my closest friends—for hours upon hours in the practice lab and library."
For the grads of the 2010s, this first decade out of optometry school are the years when they start to carve out their career path in the industry. And as challenging as that may be, the chance to check-in with fellow classmates will act as a touchstone of sorts, a reminder that not so long ago they were deep in the trenches of studying—and now they are all flourishing on their individual paths made possible through their time together.