Social media is nice, but catching up in person is so much nicer.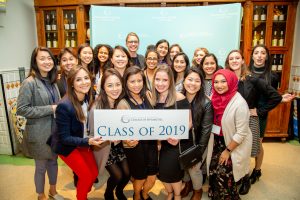 New York, October 22, 2019 –For young optometrists who graduated in the last decade, staying in touch is easier than ever. Between texting, Instagram and LinkedIn, they have direct lines to each other's lives. But as SUNY College of Optometry reunion ambassador Mitali Sanghani ('14) says, that's not enough.
"We all have social media so we always seem connected, but it's nice to meet face to face and reminisce on the good old times we shared together," says Sanghani, who currently works as an optometrist at Center for Eyecare in West Islip, New York. "I am most looking forward to catching up with classmates who I haven't seen since graduation and seeing how they've grown in their personal and professional lives."
Kyra Dorgeloh ('19) agrees. "I think it's important to keep in touch with your SUNY family," she says. "I'm very excited to see classmates and hear how the real world is treating them! I want to hear about everyone's work experiences as I am currently doing my residency in ocular disease at the College."
In the meantime, working to get their classmates to attend has pushed the ambassadors to reminisce on the time they spent together. Dorgeloh says her favorite memory is, hands down, the Eye Ball. "The annual spring party was a great way to end the year, especially during third year when we had all just taken our first board exam. It was a great way to connect with classmates outside of school and celebrate another year done."
For Sanghani, other gatherings loom large. She cites "Halloween parties, spending countless hours at the library and forming friendships of a lifetime" as her favorite moments from her time at the College.
Those people-focused moments make sense; both Sanghani and Dorgeloh say classmates are the reason their experiences in the program were great. "Studying together and supporting each other made things manageable during stressful times," says Dorgeloh. "Also, having people to explore the city with when I needed a break from school made finding a balance between work and personal life easier. I made lifelong friends during optometry school."
In addition to bringing together graduates of classes from years past, the reunion welcomed the class of 2019 as they transitioned from students of the College to alumni of the College.
"We all worked hard and are very proud to finally be alumni," says Dorgeloh. "The class of 2019 would love to meet you! We are new to the working world and would love to be introduced to our fellow alumni community. Any advice you can give from your years of experience would be much appreciated."
More than 20 members of the Class of 2019 registered to attend Reunion on October 5.