From working to eradicate myopia in kids to helping optometrists grow their practices, he gives the profession his all.
Most people are lucky if they find one passion in life. But Gary Gerber, OD has given his heart to three major endeavors. And it all started with a mistake.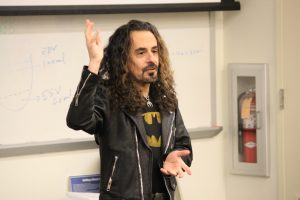 "I was a math major at Indiana University. One night while taking a break from studying in the library, I mistakenly got off the elevator in the lobby instead of the cafeteria," he says. "The OD school had what I now know was a laser interferometer that told me I was probably myopic. The screener was right—I was. And I was fascinated. I audited a class, spoke to some OD students and decided, 'This is cool. I want to do this.'"
The Fair Lawn, New Jersey-native enrolled at SUNY Optometry in 1978 and opened a private optometry practice in 1985, just three years after graduation. He ran it for 20 years, all the while delivering more than a thousand presentations at ophthalmic meetings, including Vision Expo East and West and the American Academy of Optometry.
In 1995, he founded his consultancy, The Power Practice. As chief dream officer, he helps optometrists develop their practices. "We work side by side with ODs to help them power their practices, personal and professional dreams," Dr. Gerber says. "It's very gratifying and emotionally rewarding to have clients say that as a result of working with us, their practices—and by extension, their personal lives—have vastly improved."
As part of his work with the consultancy, Dr. Gerber also hosts "The Power Hour," which is billed as optometry's only live talk radio show. "It's a tool to disseminate timely information to colleagues and allow a dialogue with major industry players," he says.
In 2016, Dr. Gerber co-founded Treehouse Eyes in the Washington, D.C. area, where he fully embraces his role as chief myopia reduction officer. His goal is to eradicate myopia from the planet, and his practice works to stop or slow its progression in young patients. "We are the country's first and only practice exclusively dedicated to treating myopia in kids. That's all we do. No adults, no primary care, no optical," he says, noting that 25% of kids in the United States are nearsighted. "Any time we can slow down a kid's myopia to give them better vision for life, I smile ear to ear."
When he's not with patients or clients, Dr. Gerber can be found attending his other passion: music. He is the keyboard player for Joe Lynn Turner, the singer from Deep Purple and Rainbow.
Rock music might seem like a far cry from optometry, but one of the most important lessons Dr. Gerber has learned so far in his career ties the two together: "Surround yourself with a rock star team, no matter what you do – optometry, consulting or music."