July 13, 2020

Chief of Primary Care addresses questions, precautions, and expectations amid COVID-19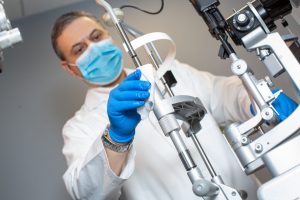 New York, NY—The University Eye Center at SUNY College of Optometry recently increased in-person primary and urgent care visits across all eye care services including the new Barbara Saltzman Center for Pediatric Eye Care. Although clinic schedules have been modified to limit the number of people in waiting areas and allow for appropriate social distancing, the UEC looks forward to continuing to serve existing and new patients of all ages and walks of life from the New York City community.
What safety measures are in place at the UEC to protect patients and providers from COVID-19? How will exams be conducted differently? How can patients prepare for their visit?
As we work together to navigate the changes and challenges posed by the coronavirus pandemic, UEC Chief of Primary Care, Dr. Diane Calderone-Villanueva, addresses important questions and concerns to ensure that every patient visit is safe and successful.
What UEC services are open for in-person care and consultation?
Appointments are now available for routine eye care in both Adult and Pediatric Primary Care clinics at the UEC. Advanced Care services include specialty clinics for glaucoma, retina, anterior segment, and cataract (ASCAT), neuro-ophthalmic, and electro-diagnostic services. Other vision care services include:
Myopia Control Clinic for evaluation and treatment of nearsightedness;
Contact Lens for cosmetic and specialty contact lens fitting examinations;
Vision Rehabilitation for low vision and head trauma evaluations.
Vision Therapy will continue remotely via telehealth and is expected to resume for on-site visits in early August. The telehealth option will remain open to patients upon need and request for the services listed as well as others at the UEC.
What new protocols are in place at the UEC to protect patients and providers?
Following strict COVID-19 guidelines as established by state public health officials and the American Optometric Association, the UEC has changed the way doctors, staff and patients interact to ensure every individual is protected as possible.
New protocols and requirements at the UEC feature:
Reduced capacity. Upon making an appointment, patients will be instructed to come alone for their doctor's visit. Children and other patients requiring assistance will be allowed one guardian or caregiver to accompany them to their visit. Clinic visitation schedules have been modified and reduced to minimize the number of patients in waiting areas and allow for appropriate social distancing. Elevator capacity will also be limited to four people at a time.
Temperature checks and screening. Patients will be given a mandatory temperature check for fever and asked to complete short screening questionnaire upon entry including whether they have been exposed to COVID-19 and if they are experiencing any symptoms.
Face coverings. Patients will be required to wear a face-covering over their nose and mouth at all times during their visit and exam unless otherwise directed. If a patient arrives at the UEC without a face covering, a mask will be provided or the exam will be rescheduled.
Safeguarded exams. UEC clinicians will wear surgical masks and have either face shields, goggles, or use slit lamp shields as physical barriers during examinations. Opticians will also wear masks and use face shields and/or utilize plastic shields when taking measurements in the eyewear center. Technicians will wear face shields in addition to masks when administering any imaging or diagnostic testing procedures, as well as for insertion and removal training in the Contact Lens Department. All equipment will be sanitized before and after each patient visit. Also, the doctor may ask a patient to wait to until after the exam is complete to address issues and answer questions while at a safe distance.
Throughout the UEC facility, signage and stickers will be posted strategically throughout the building to remind all staff and guests regarding the face-covering requirement and assist with social distancing protocols. Plexiglass shields are present for patient and provider protection in the lobby and at all front desk/receptionist areas.
Is COVID-19 testing needed before visiting the UEC?
A coronavirus test or verification of recent testing is not needed prior to visiting the UEC.
What if a patient has been exposed to coronavirus or is sick and has an urgent vision care matter?
If a patient has a cough or a fever or has been in close contact with someone who has these symptoms, we ask the patient or caregiver to call the UEC at 212-938-4001 ahead of the visit to receive guidance. Depending on the situation, the patient may be asked to stay home and conduct a telehealth visit or be rescheduled. If it is an emergency, patients should call 911 0r visit their local emergency room.
Above all, says Dr. Calderon-Villanueva, be sure to practice self-care by washing hands regularly with soap and water for at least 20 seconds and avoid touching your eyes, nose and mouth for virus prevention and spread to others.
For information about the UEC or to make an appointment, call 212-938-4001 or visit the UEC web site at universityeyecenter.org to learn more about eye health and vision care services.
###
About SUNY College of Optometry

Founded in 1971 and located in New York City, the State University of New York College of Optometry is a leader in education, research, and patient care, offering the Doctor of Optometry degree as well as MS and PhD degrees in vision science. The College conducts a robust program of basic, translational, and clinical research and has 65 affiliated clinical training sites as well as an on-site clinic, the University Eye Center.  SUNY College of Optometry is regionally accredited by the Commission on Higher Education of the Middle States Association of Colleges and Secondary Schools; its four-year professional degree program and residency programs are accredited by the Accreditation Council on Optometric Education of the American Optometric Association. All classrooms, research facilities and the University Eye Center, which is one of the largest optometric outpatient facilities in the nation, are located on 42nd Street in midtown Manhattan. To learn more about SUNY College of Optometry, visit www.suny.edu.
Organization Contact: Adrienne Stoller, communications@sunyopt.edu, 212-938-5600