She nearly didn't come to optometry school—but now that she's here, she is excelling.
Many say that test results only tell part of the story—that the numbers are great, but not the full picture of the person who took the exam. But there are times when a test result perfectly represents the story behind the number. And that is the case with Ms. Kyra Dorgeloh and the National Board Exams.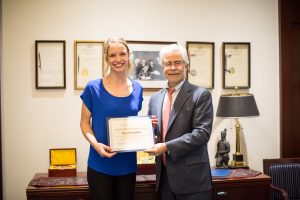 Ms. Dorgeloh, who will begin her final year at SUNY Optometry this fall, received the highest score of any student at the College on Part One of the test. And while that is stellar, it is also to be expected of a student who has been consistently conscientious since entering the classroom—and even before she was enrolled.
"I was excited!" Ms. Dorgeloh says about getting her score. "It was a long few months of studying. We all worked really hard and it was so helpful to have people to study with and to know that we were all going through the same thing."
The University of North Carolina graduate nearly didn't make it to optometry school. "I didn't quite know what I wanted to do after my undergraduate degree," says Ms. Dorgeloh, who was a biology major and tried veterinarian school before realizing it was not for her. "Then I found a job in a research lab at Bayer Crop Science and considered pursuing a master's degree." She stayed at the lab for two years, working with the team responsible for molecular testing of plant samples.
Throughout this time, Ms. Dorgeloh was developing an interest in optometry. She spent Saturdays as a technician at Doctors Vision Center, a private practice in North Carolina, and after years of not being sure, she suddenly was: "I loved my job at the practice. The doctors there were so helpful and gave me great insight into the profession. I worked for two years, and in the meantime finished my prerequisites, took the OAT and did my interviews at SUNY Optometry."
When the Johannesburg, South Africa, native moved to New York City, she arrived knowing she had found her career. "I liked SUNY Optometry because I felt it had a good balance of academics and clinical experience," says Ms. Dorgeloh. Still, for all of the coursework, the most important lesson didn't require a classroom. "I think the biggest thing I've learned—and am still learning—is to be flexible. Between all of the classes we take, all of the clinics we rotate through, and all of the cases that end up in our chair, it takes some flexibility to do your best no matter what comes your way."
Ms. Dorgeloh has clearly mastered the art of being flexible to achieve, as illustrated by her National Board Exam scores. In her final year, she says she will continue to strive for this work-life balance. Her post-graduation plans are to find a residency in primary care or ocular disease—and to make a mark on the city where she is already excelling in her professional calling.