January 28th is National Data Privacy Day!

Led by the National Cyber Security Alliance (NCSA), Data Privacy Day – held every year on January 28 – commemorates the 1981 signing of Convention 108, the first legally binding international treaty dealing with privacy and data protection. Data Privacy Day (DPD) began in the United States and Canada in January 2008 as an extension of Data Protection Day in Europe. DPD brings together businesses and private citizens to share the best strategies for protecting consumers' private information.
Data Privacy Day's 2020 theme is "Own Your Privacy."
Each year, data breaches continue to grow in size and scope – exposing consumers' sensitive, personal information and businesses' valuable data. Against this backdrop, Data Privacy Day helps spread awareness about privacy and educates citizens on how to secure their personal information. It also works to encourage businesses to be more transparent about how they collect, store and use data.
---
"With the California Consumer Privacy Act going into effect in January 2020, this year's Data Privacy Day couldn't be more timely for increasing awareness among businesses and consumers about the importance of respecting and protecting personal information," said Kelvin Coleman, executive director of NCSA. "With the tremendous growth of businesses collecting and using personal data and millions of customers putting private information online, Data Privacy Day works to encourage businesses to improve data privacy and security practices and educate consumers about the many ways their personal information can be used and shared."
---
SUNY College of Optometry has been designated as a
2020 Data Privacy Day Champion!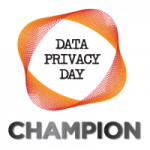 ---
Additional information and resources on Data Privacy
Tips for Staying Safe and Private Online for Consumers
Tips for Staying Safe and Private Online for Organizations