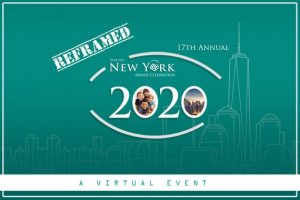 New York, NY—The Optometric Center of New York (OCNY), the affiliated foundation of the SUNY College of Optometry, hosted its 17th annual Eyes on New York Award Celebration on November 5. From celebrity sightings and music to paying tribute to industry innovators and those who benefit from donor support, the virtual gathering was an event to remember for the honorees and virtual guests who joined the mission to advance vision and eye care for all people. This year's Eyes on New York raised an estimated $125,000 for student scholarships and charitable care. Donations continue to climb post event.
"The work of OCNY would not exist without you, our supporters, sponsors, and friends," said OCNY Board President, Dr. Richard Soden. "From the patients we help and scholarships for students to clinical facilities like our new pediatric center, your donations are the catalyst that moves us forward and provides the flexibility to adapt in challenging times."
This year's virtual celebration opened with an introduction by retired industry leader Danne Ventura, of Essilor of America, who highlighted the "Year of the Woman" and growth of women in optometric education and the profession starting with Gertrude Stanton who was the first licensed female optometrist at the turn of the 20th century. Her talk was followed by an update from President Dr. David A. Heath who addressed how the SUNY Optometry campus and clinic has navigated the public health crisis and social challenges this year.
"We are demonstrating our resiliency and adapting our behaviors," stated Dr. Heath. "From implementing rigorous cleaning and sanitization protocols and finding safe ways for students, staff, and patients to return to campus, to leading conversation on race in optometry and assessing our own internal challenges in this area. I am proud of the entire team at the College as everyone stepped up to the plate."
Taking center stage at the celebration were the contributions of four women to the advancement of optometric care along with a commemoration of the new Barbara Saltzman Center for Pediatric Eye Care, a 5,000 square foot facility which opened in late March at the height of the COVID-19 pandemic. The state-of-the-art Center for patient care and training was named for the work and dedication of the late Barbara Saltzman, who served as OCNY board president.
"The Pediatric Eye Center is truly remarkable. It was at this event a few years ago that we kicked off the fundraising for this project, raising over $1.5 million," said Dawn Rigney, vice president for Institutional Advancement at SUNY Optometry. "All the funds raised through this event will be immediately put to use to provide quality, affordable care through our Charitable Care Fund and provide scholarships for our students."
Recognized for their contributions to the industry, ingenuity, and quality care, 2020 Eyes on New York award honorees featured
Eyes on Leadership: Eva Kosanovic, President of Keeler, a medical device and ophthalmic supply company;
Eyes on Rising Stars: Jessica and Ella-Jane Darcy, founders of Funoogles—a children's eyewear company that allows kids to change the colors of their frames easily;
Alumna of the Year: Denise Whittam, OD, class of 1991, optometrist at Cohen's Fashion Optical and Professional Affairs Consultant at Johnson & Johnson Vision Care.
In addition to inspiring stories from innovators, students and patients, attendees were treated to a talk with New York's "Queen of Cake," Sylvia Weinstock, who shared the influence of her signature eyewear on her business success and the importance of vision care, followed by a riveting performance by famed singer/songwriter and electronic violinist Deni Bonet, who kept the online crowd captive with her classical rock-club vibe.
In her closing remarks, Ms. Ventura offered a special toast to event organizers and supporters: "May you always lead with compassion, create with abandon, and advocate for your community. Be like Gertrude Stanton, and with your leadership and participation, vision health will serve as a gateway to seeing a better future and reaching new levels of awareness."
Special thanks to Eyes on New York sponsors including Coopervision, Designs for Vision, Glenmede, Dr. Ronald Millman, Essilor, Dr. Mark Feder, Haag-Streit USA, Jobson, William J. Moran, and VSP.
To view the full 17th annual Eyes on New York event, go to suny.onlinegalas.org. For more information about the Optometric Center of New York and the benefits of giving, visit www.sunyopt.edu/giving.
Organization contact: Adrienne Stoller, communications@sunyopt.edu or 212-938-5600.
###
About the Optometric Center of New York
Founded in 1956, the Optometric Center of New York (OCNY) currently serves as the college related, tax-exempt foundation for SUNY College of Optometry and its affiliated patient care clinic, the University Eye Center. OCNY stands as an example of what partnership among visionary community leaders, education, and businesses can accomplish. Since its inception the OCNY has demonstrated an ongoing commitment to supporting vision care for underserved populations; educating the next generation of optometrists including providing merit and need-based scholarships to students; and advancing research into the complex human visual system. To make a donation visit www.sunyopt.edu/give or to learn more contact ocny@sunyopt.edu or 212-938-5600.
About SUNY College of Optometry
Founded in 1971 and located in New York City, the State University of New York College of Optometry is a leader in education, research, and patient care, offering the Doctor of Optometry degree as well as MS and PhD degrees in vision science. The College conducts a robust program of basic, translational and clinical research and has 65 affiliated clinical training sites as well as an on-site clinic, the University Eye Center. SUNY College of Optometry is regionally accredited by the Commission on Higher Education of the Middle States Association of Colleges and Secondary Schools; its four-year professional degree program and residency programs are accredited by the Accreditation Council on Optometric Education of the American Optometric Association. All classrooms, research facilities and the University Eye Center, which is one of the largest optometric outpatient facilities in the nation, are located on 42nd Street in midtown Manhattan. To learn more about SUNY College of Optometry, visit www.suny.edu.