August 12, 2020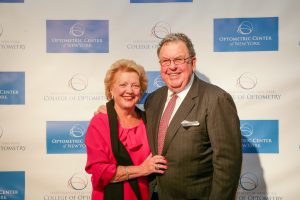 New York, NY—From rough, tumble and humble beginnings in Astoria, Queens to a long and illustrious career in the banking industry, newly appointed board member of the Optometric Center of New York (OCNY), William Moran, MBA, CPA, cites three attributes that enabled him to achieve a successful career. These include his ability to adjust to unanticipated changes—with a smile—and living by two cardinal rules: always treat people with respect and always give back some of your good fortune to help others. "It did not hurt along the way to have great mentors and a bit of luck too," Moran added.
"I come from a strong working-class background. My neighborhood was multi-ethnic. We learned not to hate—we were street kids. We played every day after school on the street—stickball, hockey, roller derby, football—and learned the rules on the street that served us well as we made our way through life," recalled Moran. "We were all pretty much the same. We wanted to be successful. At the same time, none of us knew what that meant."
"From my parents, who lived through the Great Depression, I learned the value of hard work and not wasting anything. If unanticipated company showed up for dinner, the rule was FHB (Family Hold Back). My mother worked two jobs to take my sister and me to New Jersey for the summer months so that we would not catch polio—a dreaded, crippling, and often fatal disease that has been virtually eradicated. Whatever little money my parents could spare was always given to the church or a charity. Their generosity of caring—giving food, money, and time—left a lasting impression on me. It became who I am." 
A self-described overachiever, Moran attributes his many career milestones to the liberal arts education he received at Marist College. "That experience prepared me academically to be successful in life and to adapt to a constantly changing world," said Moran, Marist Class of 1963 valedictorian. "Marist taught me how to learn and to love being challenged to learn more." Following graduation, he taught high school English followed by a two-year stint at IBM that motivated him to pursue an MBA at Columbia University. His goal was to "become one of the great names in advertising," he said laughingly. However, Moran said that an unanticipated "faux pas" required him to reconsider his career path.
"I went to business school to pursue a degree in marketing. But in my final year at Columbia, I learned that I had taken too many accounting classes and ended up with an accounting and finance degree. Not good, I was not happy," he recalled. "I was not particularly fond of the idea that I was going to be an accountant—sitting at a desk all day and running adding machine tapes. But I convinced my smiling self that CPAs and advertising execs were a lot alike. They both ate lunch out with their clients." 
Following graduation in 1966, Moran began his career at KPMG (Peat, Marwick, Mitchell & Company at the time), where he worked his way up the ranks in public accounting using his strong writing and interpersonal skills. "The experience exceeded my need to be learning and intellectually challenged constantly," said Moran. "I was constantly working with new people, training and developing staff, doing volunteer work, and advancing career opportunities for my minority staff. It was a great fit for my skill sets, personality, and need to give back."
In 1975, he joined the Chase Manhattan Bank Internal Auditing as a Vice President. After a series of mergers, the bank is now called JP Morgan Chase. Moran said that working on facilitating those mergers was the most exciting period in his working life, which included many unexpected changes, the ability to mentor staff to achieve career success, a great deal of personal growth, and a lot of smiles. "Two years in the Internal Audit Division was the maximum limit going into the job," quipped Moran. Instead, Moran stayed at the bank in internal auditing for 30 years, ultimately becoming General Auditor-Executive Vice-President reporting to the Chairman of the corporation. He retired in 2005.
"The path of my career supports the adage that if you take the right job, you'll never work a day in your life," explained Moran. "And if you don't like what you're doing, change jobs because you will never be successful doing something you don't enjoy."
Since his retirement, Moran keeps busy by spending time with his three grandkids and sharing his 60 years of experience, wisdom, and wit as a member of numerous public and private boards, including as chairman of the Audit Committee of BGC Partners, a member of the Cantor Fitzgerald family of companies. He is honored to actively support OCNY's initiatives in recognition of his mother, who suffered from macular degeneration and to carry on the legacy of his long-time companion and former OCNY board president, the late Barbara Saltzman.
"Barbara was a caring and giving person. Through the OCNY, she was able to take her love and concern for children and establish the amazing Saltzman Center for Pediatric Eye Care at the College's University Eye Center," said Moran. "The sheer volume of patients that come through the clinics each day and the quality of the doctors and staff caused me to want to be part of this organization that does so much good. As a board member, I will be able to use my business skills and carry on my family's and life partner's tradition of giving back." 
For information about the OCNY, visit www.sunyopt.edu/give or contact ocny@sunyopt.edu or 212-938-5600.
Organization Contact:
Adrienne Stoller, communications@sunyopt.edu, 212-938-5600
###
About SUNY Optometry
Founded in 1971 and located in New York City, the State University of New York College of Optometry is a leader in education, research, and patient care, offering the Doctor of Optometry degree as well as MS and PhD degrees in vision science. The College conducts a robust program of basic, translational and clinical research and has 65 affiliated clinical training sites as well as an on-site clinic, the University Eye Center.  SUNY Optometry is regionally accredited by the Commission on Higher Education of the Middle States Association of Colleges and Secondary Schools; its four-year professional degree program and residency programs are accredited by the Accreditation Council on Optometric Education of the American Optometric Association. All classrooms, research facilities and the University Eye Center, which is one of the largest optometric outpatient facilities in the nation, are located on 42nd Street in midtown Manhattan. To learn more about SUNY Optometry, visit www.suny.edu.
About the Optometric Center of New York
Founded in 1956, the Optometric Center of New York (OCNY) currently serves as the college related, tax-exempt foundation for SUNY College of Optometry and its affiliated patient care clinic, the University Eye Center. OCNY stands as an example of what partnership among visionary community leaders, education, and businesses can accomplish. Since its inception the OCNY has demonstrated an ongoing commitment to supporting vision care for underserved populations; educating the next generation of optometrists including providing merit and need-based scholarships to students; and advancing research into the complex human visual system. To make a donation visit www.sunyopt.edu/give or to learn more contact ocny@sunyopt.edu or 212-938-5600.