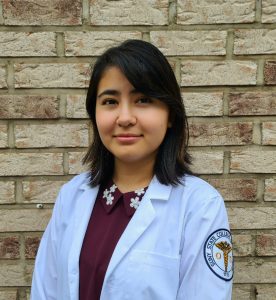 Orlando, Fl.—State University of New York (SUNY) College of Optometry third year OD/MS student, Gulnoza Azieva, has been named the recipient of the Joe and Janet Barr Early Career Cornea and Contact Lens Research Award presented by The American Academy of Optometry Foundation (AAOF).  She earned the award in support of her research project focusing on the development of a protocol to assess ocular surface and identify reliable parameters that will help with the assessment of CLIDE (contact lens induced dry eye).  
In a press release issued on June 14th, the AAOF said Azieva presented an impressive resume of experience in clinical research, volunteer service, and lecture presentation leading to her selection as this year's award winner. 
Said Azieva of her journey into the field of optometry: "I chose SUNY because of its strong commitment to training vision scientists and future leaders in optometry to advance vision care. This was very important for me. My long-term career goal is to become an optometry educator and vision scientist performing my own ocular surface and contact lens research and applying the latest discoveries to our patients."
The Barr Research Award is intended to provide an entering first or second year MS or PhD vision science or physiological optics student attending a school/college of optometry support of $2,000 for research project seed funding in the areas of cornea/ocular surface or contact lenses. The applicant can be in a graduate program alone or combined with professional/residency program. 
In recognition of her achievement, Azieva will be honored at the Academy 2021 Boston, November 3-6, in Boston, Massachusetts. 
June 15, 2021
Organization contact: Adrienne Stoller, communications@sunyopt.edu, 212-938-5600.
AAOF contact: Jennifer Rubin, Awards and Student Membership Engagement Manager, JenniferR@aaoptom.org, 321-319-4872.
###
About SUNY Optometry
Founded in 1971 and located in New York City, the State University of New York College of Optometry is a leader in education, research, and patient care, offering the Doctor of Optometry degree as well as MS and PhD degrees in vision science. The College conducts a robust program of basic, translational and clinical research and has 65 affiliated clinical training sites as well as an on-site clinic, the University Eye Center.  SUNY Optometry is regionally accredited by the Commission on Higher Education of the Middle States Association of Colleges and Secondary Schools; its four-year professional degree program and residency programs are accredited by the Accreditation Council on Optometric Education of the American Optometric Association. All classrooms, research facilities and the University Eye Center, which is one of the largest optometric outpatient facilities in the nation, are located on 42nd Street in midtown Manhattan. To learn more about SUNY Optometry, visit www.sunyopt.edu.
About the American Academy of Optometry 
The American Academy of Optometry (AAO) inspires excellence in optometric practice by fostering research and disseminating knowledge in vision science through its journal, Optometry and Vision Science, and the continuing education presented at its annual meeting. Fellows of the Academy are committed to the premise that learning is a lifelong obligation of a professional, as is the commitment to expand the profession's knowledge base through ongoing fellowship and exchange. For more information, visit the website: http://www.aaopt.org. 
About the American Academy of Optometry Foundation 
The American Academy of Optometry Foundation (AAOF) is the 501(c)(3) philanthropic arm of the American Academy of Optometry (AAO) and was founded in 1947 for the "upholding, broadening, fostering, promoting and aiding of optometric education; the profession of optometry and its practitioners." The organization provides financial support for optometric research and vision and eye health education to improve patient clinical care. For more information, visit the website: https://www.aaopt.org/home/aaof.