August 19, 2020
Newest members include 33% first generation students and the largest group of underrepresented minorities in the College's history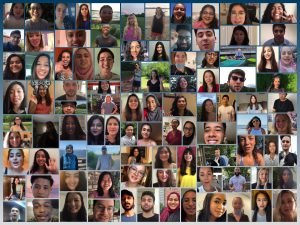 New York, NY—Amid a global pandemic and call for social equality, SUNY College of Optometry begins the academic year with renewed commitment, collaboration, and confidence as they welcome aboard 97 students of the class of 2024, including the largest group of underrepresented minorities enrolled at the College to date.
"We are excited to welcome our newest students from many regions and walks of life to our community who have come together to learn, live, and grow as professionals during unique and challenging times," stated SUNY College of Optometry President, David A. Heath, OD, EdM.
Hailing from 20 states across the nation, Canada, and worldwide, the 49th class features a diverse, socioeconomic mix of individuals including 33% who are first-generation college students.
"I have the pleasure of calling multiple places across the globe home! I was born in Addis Ababa, Ethiopia and I have lived in Asmara, Eritrea; Kampala, Uganda; the Caribbean island of Grenada, and more recently, Alexandria, Virginia," said Lewan Mehbratu who received a degree in neuroscience at George Mason University. "Well known for academic and clinical excellence, I specifically chose SUNY Optometry because of the community's commitment to valuing differences and fostering a culture of belongingness, diversity, and vibrancy."
Classmate and Brooklyn native, Taylor Greaves, a SUNY Albany alum, says participation in SUNY Optometry's CSTEP, an initiative to help expose underrepresented students to careers in health and sciences, "sealed the deal" for a future in the field. In fact, this year's class is comprised of 17 members who are graduates from other SUNY institutions, including the 3/4 Joint Degree Program (three-year undergraduate at a partner institution, and four-year Doctor of Optometry degree).
"I chose SUNY Optometry because it became a home close to home. I say that because, during my undergraduate career, I dedicated time familiarizing myself with the admissions team, professors, and doctors. When I got accepted into the institution, everything I worked towards came full circle," explained Greaves, who majored in biology. "My hopes for the future as a doctor is to service minority communities as there are racial disparities that still exist in healthcare."
Established in 1971, SUNY College of Optometry has a long-standing reputation for educating and producing the best in the optometric profession both nationally and internationally. The caliber of students enrolled at SUNY College of Optometry remains consistent with previous years. Selected from an exceptionally bright and well-rounded pool of applicants, students who represent the class of 2024 are uniquely qualified to advance the future of optometric practice to meet and exceed the demands of our evolving healthcare environment, as well as the needs of diverse patient populations.
"SUNY Optometry has always been on my radar. I've passed the building and have visited on numerous occasions. Every time I came back to SUNY Optometry, there was an addition to the building that made things new and exciting," said Fernando Peralta, a lifelong Bronx resident. He earned a BS in sociology and biology from SUNY Oneonta. "My plans for the future are to provide to the community that raised me. Giving back to the Bronx and adding providers in the area will increase the quality of patient care."
For more information, contact the Admissions office at admissions@sunyopt.edu.
For more information about SUNY College of Optometry and the University Eye Center, a nationally recognized center for adult and pediatric eye care, visit sunyopt.edu.
Organization contact: Adrienne Stoller, communications@sunyopt.edu, 212-938-5600
###
About SUNY Optometry
Founded in 1971 and located in New York City, the State University of New York College of Optometry is a leader in education, research, and patient care, offering the Doctor of Optometry degree as well as MS and PhD degrees in vision science. The College conducts a robust program of basic, translational and clinical research and has 65 affiliated clinical training sites. SUNY Optometry is regionally accredited by the Commission on Higher Education of the Middle States Association of Colleges and Secondary Schools; its four-year professional degree program and residency programs are accredited by the Accreditation Council on Optometric Education of the American Optometric Association. All classrooms, research facilities and the University Eye Center, which is one of the largest optometric outpatient facilities in the nation, are located on 42nd Street between Fifth and Sixth Avenues in midtown Manhattan. To learn more about SUNY Optometry, visit www.sunyopt.edu.