BETA SIGMA KAPPA AWARD FOR ACADEMIC EXCELLENCE
COLUMBIA CLASS OF 1936 AWARD FOR
ACADEMIC & CLINICAL ACHIEVEMENT OCULAR DISEASE
GOOD-LITE PEDIATRIC AWARD FOR EXCELLENCE IN PEDIATRIC OPTOMETRY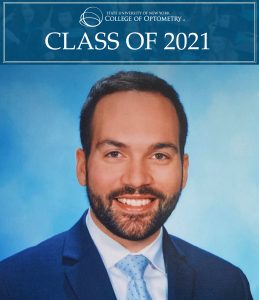 Class of 2021 graduate Anthony Boyd made a lifelong connection to the field of optometry while working as a technician in an optometric practice following College. In this role, he interacted with patients, learned about the profession, shadowed doctors, and attended legislative meetings for optometric agenda. He also participated in a low vision support group and Camp Marcella, a camp for visually impaired children. During optometry school, he was President of the SUNY Chapter of NJSOP (NJ Society of Optometric Physicians), treasurer for SPECtrum, and a member of the Beta Sigma Kappa Honor Society. Said Boyd of his experience, including his education at the College: "Optometry has given me the room to grow professionally and learn more about myself." His full immersion into the optometric field is why Boyd has earned multiple awards as he becomes a new and proud alum of SUNY Optometry.
Degree: Doctor of Optometry
Hometown: Old Bridge, NJ
Undergraduate Education: The George Washington University, B.S. Biology
What draws you to optometry?
I appreciate how multifaceted optometry is as a profession. There are so many roads that diverge (pun intended) from it. I have the opportunity to pursue my passions within the field while also helping patients preserve their vision. The doctors, health care professionals, and colleagues I've met along the way are by far the best in the industry and give optometry the edge it deserves.
What is your fondest memory of your time at the College?
The Eye Ball and the annual class softball games were always fun! I was also thrilled to see patients in the pediatric clinic and help children navigate this crazy world with an eye on the future!
How did your classmates shape your experience?
Optometry school would not have been the same without my classmates. It may have been only four years, but I've met some of my best friends during this experience. Whether it was staying late in the library to study, working together to see a schedule of patients, or sharing a celebratory drink after exams, my classmates were always there to support me and push me to be the best I could be. I'm so excited to call them my colleagues.
What was your favorite course?
Pediatrics and OABP!
What are your post-graduation plans?
I am excited to begin the next journey in my optometric career by joining Salus University as a Pediatric and Vision Therapy resident. My future goals include practicing as a pediatric optometrist and returning as an educator in a clinical capacity. I also hope to get involved on the legislative level and help fight for comprehensive eye care for all children in this country.
What advice would you give new students at the College?
Don't lose sight of yourself. Optometry school will be the most challenging and rewarding experience of your life. Do what works for you, and don't be hard on yourself. Don't be afraid to ask questions and soak in every minute. Get involved and lean on your friends to help you get through the difficult times. Always keep your future patients at the forefront of your mind. That will help you get through the late nights of studying. Above all, have fun and enjoy the ride! Because in the blink of an eye, you'll be a doctor!