CHANCELLOR'S AWARD FOR STUDENT EXCELLENCE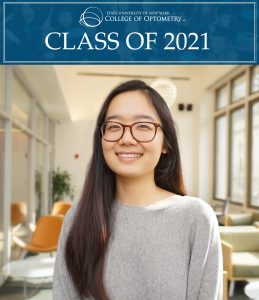 After finishing undergraduate work, New Jersey-native Elise Hoi wanted to pursue a career in research but realized it didn't fit her desire for greater human interaction and work-life balance. She found that optometry matched her vision of the future, especially the dedication and passion of the professionals who work in the field. As the recipient of the Chancellor's Award for Student Excellence, Hoi credits the SUNY Optometry community with guiding her toward this prestigious high honor and her peers for their support and inspiration. "I am no stranger to the incredible privileges and opportunities I have been given to support and lead others," said Hoi, "but I have hope for the diverse and exciting future that optometry will hold."
Degree: Doctor of Optometry
Hometown: East Brunswick, New Jersey
Undergraduate Education: The University of Pennsylvania, B.A. in Biology, Minor: Psychology
What draws you to optometry?
I feel lucky to be part of a profession that is incredibly dynamic in both complexity and scope. Optometry allows us, as healthcare professionals, to care for our patients not only medically but functionally and personally as well through specialties like visual rehabilitation/low vision. We have an incredible responsibility to guide our patients through their unique journeys to successfully manage their conditions, whether it be a simple pair of glasses or dealing with a visually debilitating disease.
What is your fondest memory of your time at the College?
It's so hard to pick as there are so many great memories! I'll always have a particular fondness for the third-floor Student Center and the time spent hanging out with my friends. My favorite SUNY Optometry event is hands down the annual softball game, where we all came together as a class to work as a team and have fun in Central Park. I am incredibly privileged to be a part of such a warm and enriching community here at SUNY Optometry.
How did your classmates shape your experience?
Where would I be without my classmates! Through every challenge, I felt that we have all relied on each other to be better for our patients. I am inspired by my colleagues' resilience, compassion, curiosity, and intelligence. I do not doubt that they will be the future superstars of our profession.
What was your favorite course?
Although incredibly challenging, I enjoyed Ocular Disease I the most. Not only did it build my love for ocular disease in general, but it helped shape my thought process when sorting through complex ocular disease or patient's perceptions of their condition.
What are your post-graduation plans?
I am incredibly excited to continue my education by pursuing an Ocular Disease residency here at SUNY Optometry.
What advice would you give new students at the College?
The biggest piece of advice I can give new students is to be kind. Be kind to yourself when studies may get difficult or when you may try comparing yourselves to others. Be kind to others when stress overcomes them. Growth can be non-linear more times than not, but with the necessary help and determination, you will get to where you need to be, not only for yourself but also, most importantly, for your patients.