MARCHON AWARD FOR EXCELLENCE IN PRACTICE MANAGEMENT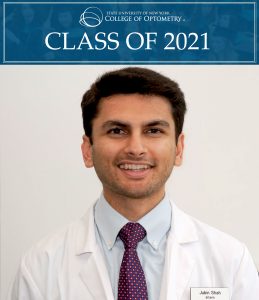 Entrepreneur, inventor, community healthcare advocate, and now a doctor of optometry. All represent just a fraction of the growing list of successful pursuits for graduate Jubin Shah, who made his mark at SUNY Optometry as the recipient of the 2020 Student Innovator Award for a device he created to assist patients inaccurately dispensing ophthalmic drops. His idea served not only to increase patient treatment success but also to reduce cost and waste. Tapping into his unwavering sense of enterprise, Shah returned to the competition this year as a finalist presenting a novel protective covering for ophthalmic lenses. In recognition of his ability to push the optometry field forward with improvements to patient care and industry, Shah receives the Marchon Award for Excellence in Practice Management.
Degree: Doctor of Optometry
Hometown: Louisville, Kentucky
Undergraduate Education: University of Louisville, Kentucky, B.A. in Economics
What draws you to optometry?
The transparency, purity, and simplicity. During my undergraduate studies at the University of Louisville, I toggled between my business and science classes. By graduation time, I reached the inevitable fork in the road; my passion for entrepreneurship and my interest in medicine had only strengthened disjointedly. Though I'd been wearing glasses and contacts my entire life, I only learned about the field of optometry upon graduating. I was drawn to optometry by the transparency of patient care, how pure the education is from animal cruelty, and how "simple" solutions can change so many lives. The profession was a perfect match for me.
What is your fondest memory of your time at the College?
My fondest memories were when I was able to provide service to others at SUNY Optometry. Not just at the University Eye Center but also providing care at vision screenings, at high schools talking to students about career paths through NOSA, painting fingernails for elderly low vision patients through Lions Club, and running a tutoring service program for Vision Therapy patients as President of Lions Club. I will never forget helping a mother with keratoconus see clearly for the first time or the third grader I tutored for months to gain confidence with his school work.
How did your classmates shape your experience?
My classmates are the reason why I was able to keep up with school. I am grateful to be a part of a class with such a strong sense of camaraderie and resilience. We may not have been the best at softball, but we kept our heads held up high.
What was your favorite course?
Visual Function courses. As a child, I was always fascinated with illusions and would describe entopic phenomena to my parents. It was only after those courses that I finally found the answers to what I was seeing.
What are your post-graduation plans?
I plan to work in the New York area for a few more years and eventually move back to Louisville, Kentucky, where I hope to serve my community by starting my own practice. In addition, I wish to continue working on the ophthalmic devices I had presented at the SUNY Innovators Award competition.
What advice would you give new students at the College?
If it is related to the eye, it is going to be taught and tested. Optometry school, while tailored to the eyes, is broad and deep. Tackle concepts through different perspectives and, eventually, it all makes sense.