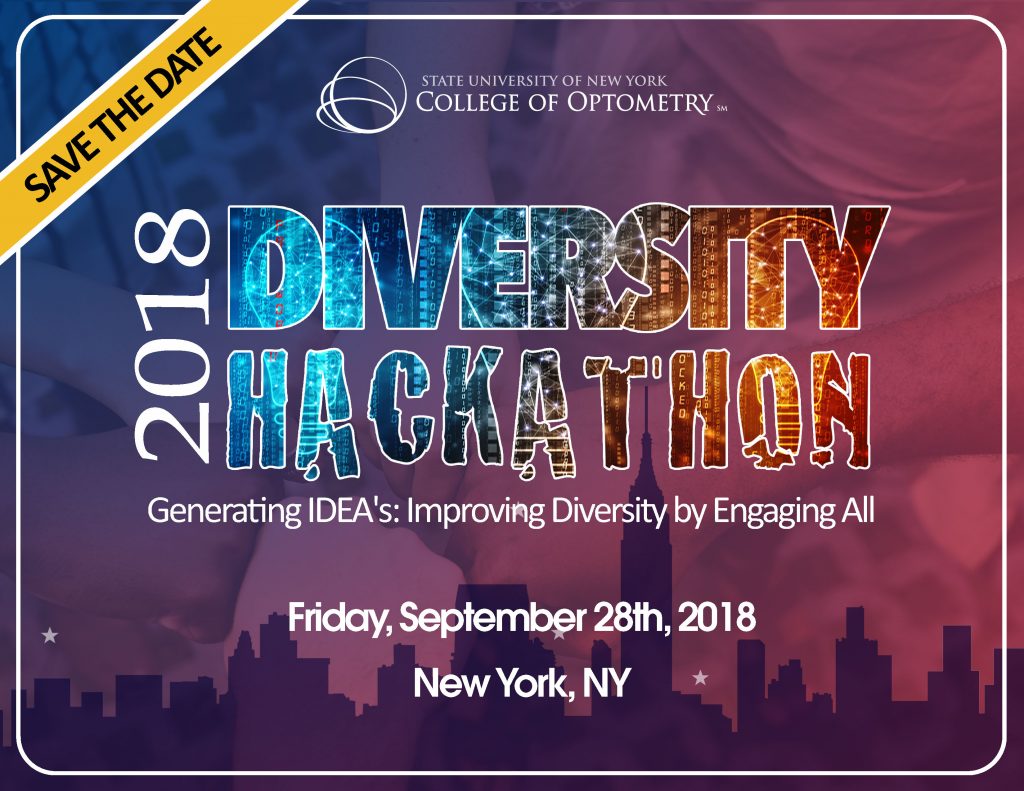 SUNY College of Optometry is proud to present its first Diversity Hackathon. A hackathon is a sprint-like event in which professionals, often including subject-matter-experts, collaborate intensively on solving a specific problem. The Diversity Hackathon will address the lack of diversity in optometry by collaboratively seeking feasible and implementable answers to one important question: How can SUNY Optometry increase the diversity of its student body?
We'll kick off this high energy event with inspiration from our guest speaker on how to think creatively (he is on a personal crusade to rid the world of boring campaigns), engage in a conversation on enrollment/recruitment strategies, learn more about the profession from a faculty and minority student panel, and tour of the College. The brainstorming will begin during lunch and extend throughout the afternoon when groups will be formed and asked to come up with creative solutions to our proposed question. The group with the best idea will be recognized with a prize. We will implement the top ideas from this event as well as share best practices with everyone in attendance. The day will end with a renown SUNY Optometry reception (you don't want to miss it!).
We are very excited to announce that 2 nights of hotel and travel costs will be covered by SUNY Optometry for qualified participants (more information below).
When: Friday, September 28, 2018.
Location: SUNY Optometry campus, 33 W. 42nd Street, New York, NY 10036
Program Agenda (TBA)
Travel and Lodging Information
We will be following the New York State travel guide for travel and lodging reimbursements. It's important that you read through the guide carefully, particularly pages 1-6. Also, important to note:
We will be covering up to two nights at the NYS Per Diem rate for qualified participants ($291/night)
We will make arrangements with nearby hotels to secure the per diem rate above. Further information about how to book your stay will be given with confirmation/approval of hackathon application.
---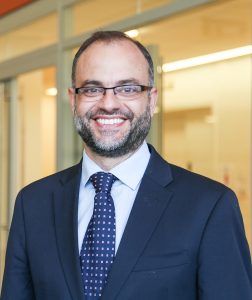 Guilherme Albieri, PhD
Vice President for Student Affairs
SUNY Optometry's appointed Chief Diversity Officer
galbieri@sunyopt.edu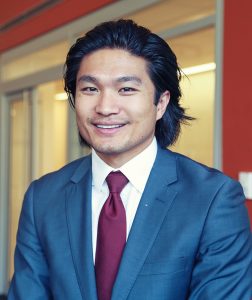 Quy H. Nguyen, OD
Director of Career Development and Minority Enrichment
qnguyen@sunyopt.edu
Christian Alberto, MSEd
Associate Director of Admissions
calberto@sunyopt.edu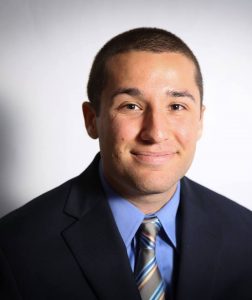 Zachary Levin-Epstein, M.A.
Senior Admissions Counselor
---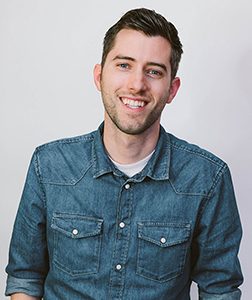 Tyler Farnsworth
Tyler Farnsworth is the Managing Director of August United, a leading influencer marketing agency. He leads the charge in planning and executing enterprise-wide campaigns for various national clients including, The Kroger Company, PetSmart, Arizona State University and Children International. Tyler is passionate about telling incredible stories, building and leading award-winning teams and helping brands connect with the people they serve. He's on a crusade to rid the world of boring marketing.
---
Further questions about the program should be sent to Mr. Levin-Epstein.
Click to Apply
**Priority consideration will be given to those who apply by May 25th. We will use the month of June to review all applications, and send confirmations of approval near July 1st. Confirmations will come with further information to how to go about securing travel reimbursements.**