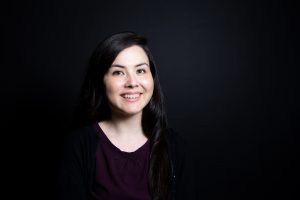 New York, October 31, 2019 – The 2016 SUNY College of Optometry graduate is excited to train the next generation of optometrists in vision rehabilitation.
It's no secret that the SUNY College of Optometry is a special place, but for some, the lure of the College is strong enough to bring them back immediately following graduation. Alexandria Tilley, OD is one of those people.
The Irvine, California-native graduated in 2016, returned just a couple months later to complete her vision therapy and rehabilitation residency, and then quickly joined the staff as an assistant clinical professor.
"During my residency, I came to realize how lucky SUNY is to have such terrific doctors all under one roof," she says. "I want to be around professionals who are at the forefront of the profession, who inspire me to never stop learning and who will challenge me throughout my career. I've found that at SUNY."
It's a feeling akin to the one she had when she decided to attend the College in 2012. "When I was applying to optometry schools, I knew that SUNY would be at the top of my list because it has such a great reputation for producing quality doctors," Tilley says. "Then when I interviewed, I could feel a sense of community among the faculty and staff and knew it would be the right fit for me."
It proved to be a great fit for Tilley, who fell for the optometry field while exploring career paths in undergraduate school. She discovered her interest in optics while taking physics courses. "I thought a career as an optometrist would be a great way to blend my love for the sciences and patient care," she said. After doing research, she landed a part-time job with a contact lens specialist. "This particular doctor was frequently dealing with complex cases, but the patients always left satisfied and well taken care of. I came to realize the direct impact optometrists can have on improving a patient's quality of life," Tilley says.
In her current position, she teaches a binocular vision lab, an optometric procedures course, and an acquired brain injury elective. She also supervises fourth year students and residents in an area that is near to her heart: vision therapy and rehabilitation.
"Nothing brings me more joy than seeing a child with a binocular vision issue, who avoids reading because it provides discomfort, start to read more and succeed academically after having trained them in our vision therapy clinic," Tilley says. "There are countless times where I've had traumatic brain injury patients tell me how grateful they are for the unique services we provide and how much our therapy has helped them in all aspects of their lives."
Tilley is also inspired by the people she has learned from and worked beside at the College. "I have so many wonderful mentors at SUNY; people that have taught me everything I know," she says of her motivation to teach. "I want to be able to pay that forward to the next generation of students and give them the skill set to be better doctors, not only for themselves, but for their patients. I have such a passion for vision rehabilitation, and it is rewarding to see my students get excited about this area of optometry that is so fulfilling."
When she's not working, she likes to try new restaurants, hike, travel and sing karaoke.