Clinical affiliate provides training and financial aid for the next generation of optometrists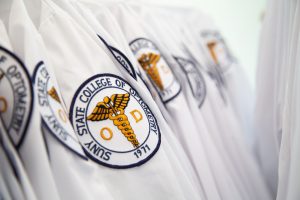 New York, NY—Students at SUNY College of Optometry seeking to fulfill their academic and professional dreams free from economic burden will benefit from a $25,000 scholarship contribution from Omni Eye Surgery of New York, an affiliate clinical training site of the College.
Omni founder/president and Optometric Center of New York (OCNY) board member Christopher Quinn, OD, is excited to boost access to top-notch optometric education and experience by way of a new scholarship to aspiring eye doctors in need.
"We are a long-time affiliate of the College through our externship program, which we have maintained for over 30 years," said Dr. Quinn, who served on the board and is a past-president of the American Optometric Association. "Being on the board of the College's foundation has also given me an appreciation for the good work OCNY does. It spurred our practice to want to give back to the profession, the institution, and a worthy student."
In addition to Omni Eye, Dr. Quinn is the founder and president of the New Jersey Center for Cornea and Refractive Surgery and Essex Specialized Surgical Institute. He's also CEO of Omni Ophthalmic Management Consultants and on staff at the Robert Wood Johnson University Hospital.  For Dr. Quinn, Omni Eye is a unique setting where community optometrists and Omni affiliated ophthalmologists share expertise and work cooperatively to ensure optimal care for patients.  
"Our commitment to optometric education prompted us to want to reward a student who had an interest in the diagnosis and management of glaucoma, which is an important public health concern," explained Dr. Quinn. "Glaucoma is a blinding disease, and in fact, 50% of patients with glaucoma remain undiagnosed. Access to care and diagnosis of glaucoma are critically important from a primary care and public health perspective and optometrist play a critical role in the diagnosis and treatment of glaucoma in all 50 states. Our goal is to encourage interest and engage students in this very important disease."
To help students achieve their professional goals and meet the cost of financing their education, SUNY Optometry hosts an annual Scholarship Presentation coordinated by the Office of Institutional Advancement. The event, held mid-November, brings together students and donors to honor academic goals, interests, and accomplishments for more than ten years. In that time, the OCNY and its donors have established over 20 scholarships to benefit hundreds of deserving students since inception. In total, the OCNY provides nearly $350,000 in scholarships and awards annually. 
"We are honored to have an enduring partnership with Omni Eye Center, including the unwavering support of Dr. Quinn," said Richard Soden, OD, '79, OCNY Board President. "It is through the generosity of donors that we can help SUNY College of Optometry students achieve their dreams."
For more information about the Optometric Center of New York and how to become a donor in support of education and practice at SUNY Optometry, visit sunyopt.edu.
November 10, 2021
Organization contact: Adrienne Stoller, communications@sunyopt.edu, 212-938-5600
###
About SUNY Optometry
Founded in 1971 and located in New York City, the State University of New York College of Optometry is a leader in education, research, and patient care, offering the Doctor of Optometry degree as well as MS and PhD degrees in vision science. The College conducts a robust program of basic, translational and clinical research and has 65 affiliated clinical training sites as well as an on-site clinic, the University Eye Center.  SUNY Optometry is regionally accredited by the Commission on Higher Education of the Middle States Association of Colleges and Secondary Schools; its four-year professional degree program and residency programs are accredited by the Accreditation Council on Optometric Education of the American Optometric Association. All classrooms, research facilities and the University Eye Center, which is one of the largest optometric outpatient facilities in the nation, are located on 42nd Street in midtown Manhattan. To learn more about SUNY Optometry, visit www.sunyopt.edu.