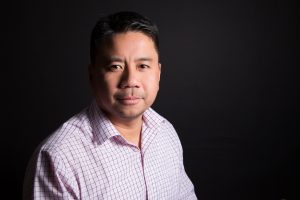 New York, October 23, 2019 — His job title is media specialist, but it should really be "jack of all trades."
Is there a world record for the number of hats one person can wear at once? If so, Luisito Bacosa must surely be in the running. As media specialist for SUNY College of Optometry, he does it all: photography, graphic design, IT. It's a role that keeps him plenty busy. "I say a prayer for guidance and strength as I approach the building every morning!" says Bacosa.
But his favorite hat to don is that of graphic designer, which sees him creating signage for College events, advertisements, booklets—you name it, he's created it. "I enjoy having my own time to be creative with the projects, and always challenging myself to break the normal," he says. It makes sense. He's had a mind for art since he was a child in his native Manila, Philippines.
"When I was a kid, I always loved to draw figures, color, create anything with my hands," he says. But his father discouraged him from becoming a fine artist ("There's no money there!"). In high school, he was introduced to computers. "Growing up in the Philippines, it wasn't typical to see computers at home because they were just so expensive. I was blessed that my mom was already working in the United States, and she was able to buy me my first computer," he says. "All I could think of during that time was animation and designing houses using Microsoft Paintbrush." He went on to earn his Bachelor of Science in information and computer science and learned to meld his love of art with his computer skills. "My heart and my mind still focuses on the arts and design, using the computer as a tool."
Bacosa also enjoys connecting with his SUNY colleagues. "Some of my co-workers come from different countries like me, and I love getting to know them and their cultures. There's always a chance for me to talk to people when they come to my office and when I work with them on their projects," he says. "One of the doctors told me, 'I feel like whenever I pass by your office, I see different people sitting next to you—it almost looked like a talk show where you have different guests everyday!' It's true."
His love for both tech and people carries over outside the office, too. A self-professed "drone nerd," Bacosa enjoys building, programming and flying the aircraft, and uses them to shoot pictures and video, too. It's a hobby that his whole family— wife Imee and kids Elisha, Ianna and David—does together. "We travel a lot, and I love capturing our outings with a drone so they can watch them later," he says. "I know we will all leave this place on earth, and I want to leave my family the memories to show them how blessed we are."
When he's not wearing all of the hats, flying his drones or skeet shooting with Imee, Bacosa is very involved with his church, teaching Sunday school. "It's truly a joy to serve multi-ethnic kids, giving back not only to people, but to our God who has done many things for us."