SUNY Optometry welcomes assistant professor Dr. Stefanie Wohl to the faculty. Originally from Schleiz, Germany, she is a molecular biologist whose work focuses on the retina.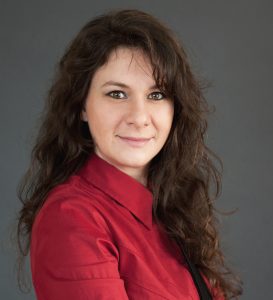 "[My interest] all started in a lecture about nerve regeneration in the spinal cord in my [final] year at the Friedrich Schiller University in Jena, Germany," says Dr. Wohl, who found a lab as a postgraduate that worked on axonal regeneration in the optic nerve. "This was the beginning of my work with the neural retina as part of the central nervous system—work that still fascinates me because of its clear structure and the huge variety of beautiful cell types."
In 2012, she left Germany and joined a lab at the University of Washington in Seattle as a postdoctoral research scientist, working with a professor who is an expert in the field of retinal development and regeneration. It was a chance to go deeper in a field that has held her interest since she was a teenager. "As early as high school, I was intrigued by genetics and molecular biology, which was one of the major reasons I studied biology."
Dr. Wohl arrives at SUNY Optometry as a grant recipient in the Empire Innovation Program, a state-funded program dedicated to groundbreaking researchers. "The cells I am interested in are called glia cells, more precisely Müller glia. Müller glia are the predominant glia in the neural retina. Glia cells are known as the support cells in the central nervous system, but have a variety of other functions including protection and maintaining the homeostasis of the tissue," she says. "For my future research, I will investigate the role of microRNAs in the glial response to injury or disease."
She will also teach basics in molecular biology and genetics, including aspects of retinal development.
This new role also presents an exhilarating challenge to Dr. Wohl outside of the classroom. "I grew up in a little town in Germany where everyone knows everyone. The biggest city I ever lived in so far was Seattle, which is one seventh of the New York City population. This is honestly something I get a little nervous about, all those people…everywhere," she says. "At the same time, NYC is a world-renowned, fascinating metropolis and I have the honor to live and work here."
Having moved cross-country, she is now settling into a new home in Long Island City in Queens, and looking for a dance studio to indulge one of her favorite hobbies. She moonlights as a certified Zumba instructor and says, "It's a wonderful stress relief, great cardio and lots of fun."