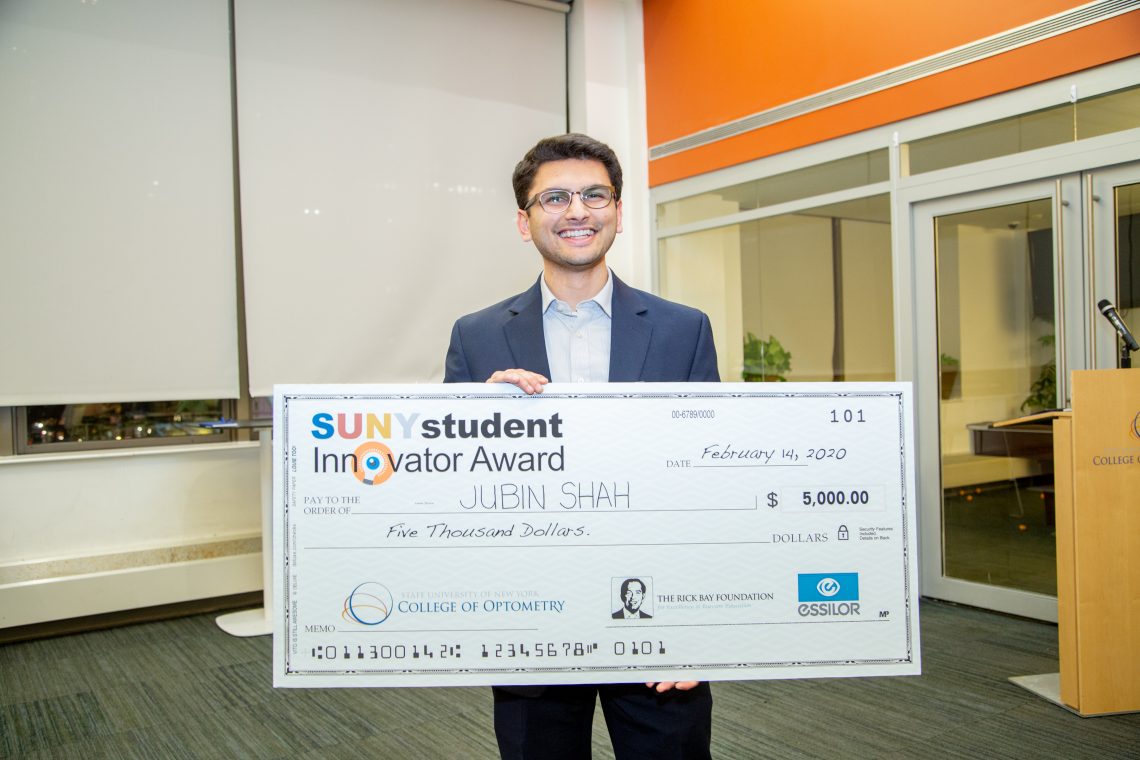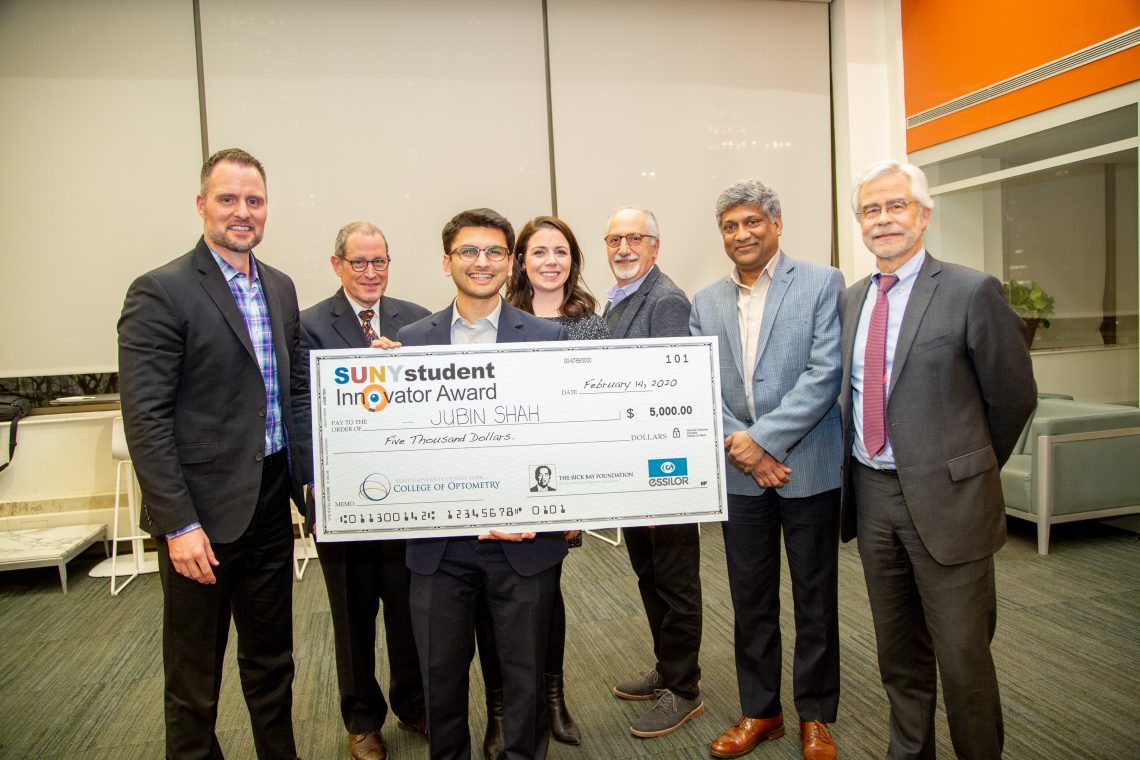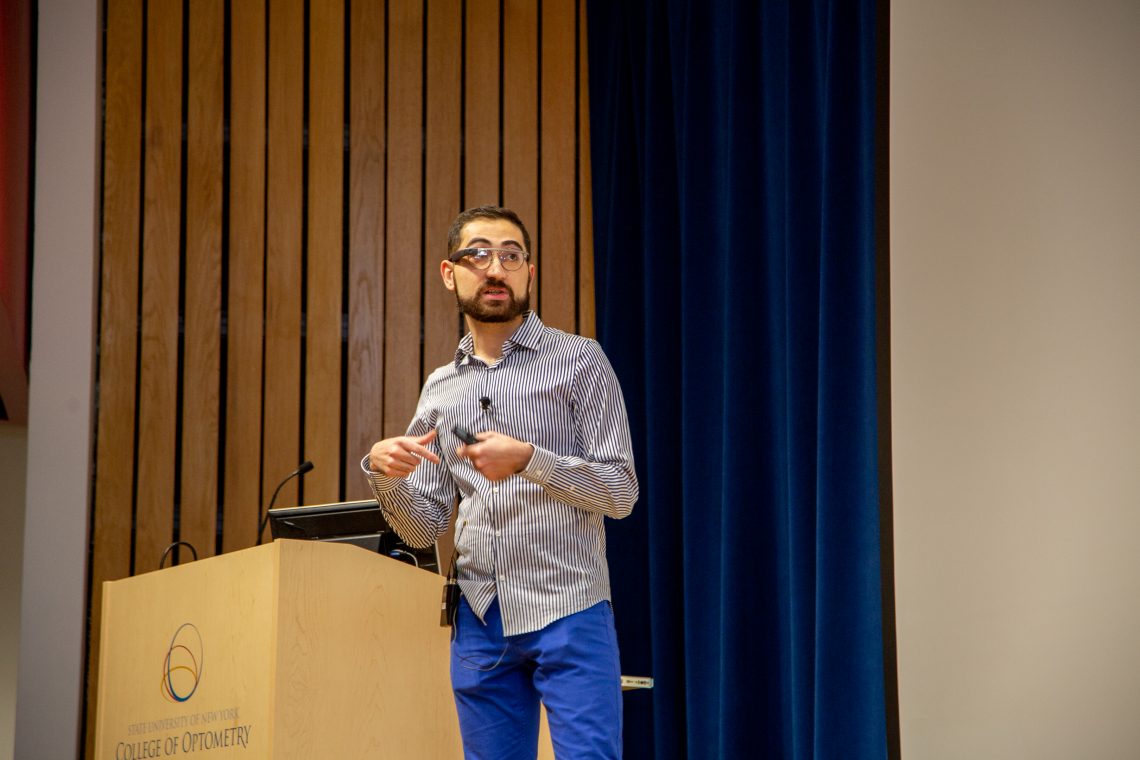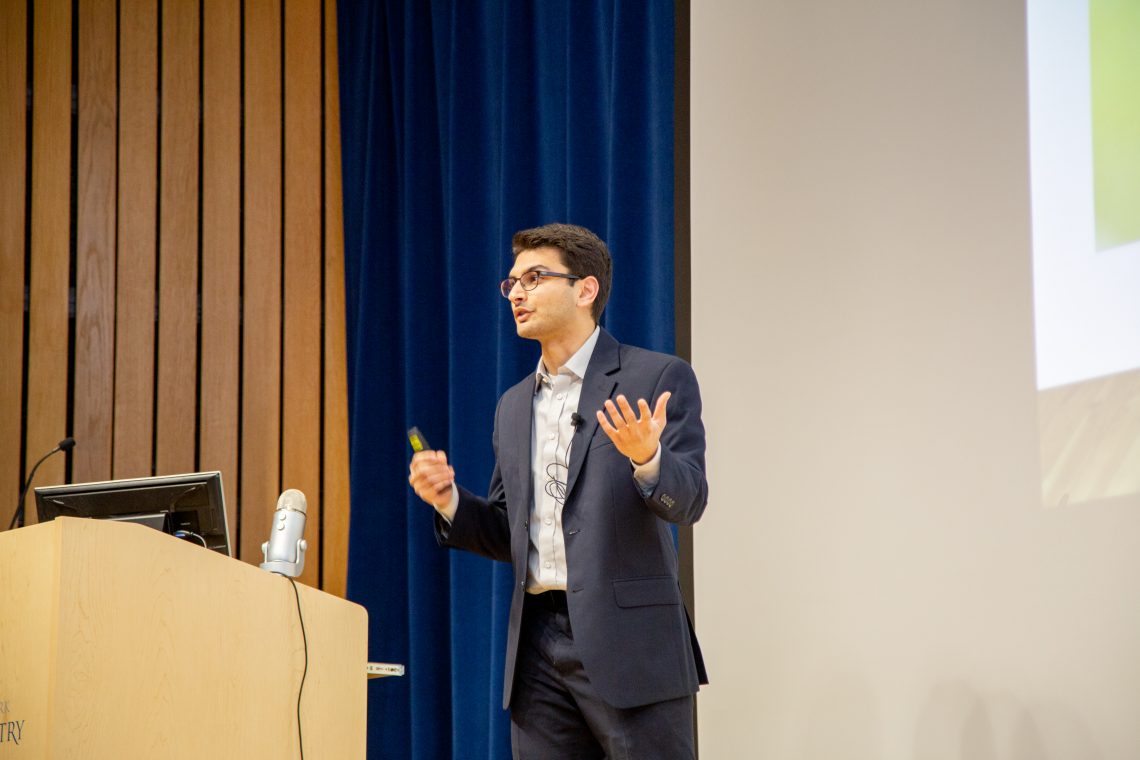 JShah after check presentation
BGarmsiri and MKim Class 2023
NEW YORK, February 14, 2020 — SUNY Optometry fourth-year student Jubin Shah received the 2020 Student Innovator Award following the College's fifth annual competition on Friday, February 14.
Mr. Shah presented a device to assist patients in accurately dispensing ophthalmic drops increasing treatment success as well as reducing cost and waste. He believes an affordable, reusable device will help improve overall treatment results as the drops will be more accurately placed improving the efficacy of the treatment. Further, by ensuring the accurate placement into the eye, patients will not need to use more of the prescribed medication which can sometimes be costly.
The annual competition began in the fall when students were invited to submit abstracts related to innovations or improvements in clinical eye care, research, practice management, optometric education, health care policy, community education, technology and social media. The submissions were reviewed by the award committee. The finalists selected to develop and present their ideas included: Hamed Rahimi Nasrabadi, a graduate student sharing his idea on creating virtual memory designed to assist patients with memory disorders; Behrad Garmsiri and Michelle Kim from the Class of 2023 discussing HIPER: Health Integrated Personal Electronic Records; and Mr. Shah.
Marc Ferrara, chief executive officer of the information services division of Jobson Medical Information; Ryan Parker, director of professional education for Essilor of America, Inc.; Dr. Jennifer Gould, chief of advanced care services for the University Eye Center; Dr. Richard Soden, director of health care development; and Dr. Suresh Viswanathan, associate professor and chair of the biological and vision services department served as judges for this year's competition. They assessed the students' ideas for originality, potential impact, viability and feasibility.
This opportunity for SUNY College of Optometry students to be directly rewarded for their ingenuity is the result of a partnership with Essilor of America, Inc. and the Rick Bay Foundation for Excellence in Eye Care Education. Past winners include Christian Crespo, Elkie Fung and Tara Mahvelati, Kathleen Hoang, and Vanessa Fimreite.
Additionally, Mr. Shah received a $5,000 scholarship during the award ceremony following the judges selection. He will share his concept with a wider audience during the Vision Monday Global Leadership Summit in March.
About SUNY Optometry
Founded in 1971 and located in New York City, the State University of New York College of Optometry is a leader in education, research, and patient care, offering the Doctor of Optometry degree as well as MS and PhD degrees in vision science. The College conducts a robust program of basic, translational and clinical research and has 65 affiliated clinical training sites as well as an on-site clinic, the University Eye Center. SUNY Optometry is regionally accredited by the Commission on Higher Education of the Middle States Association of Colleges and Secondary Schools; its four-year professional degree program and residency programs are accredited by the Accreditation Council on Optometric Education of the American Optometric Association. All classrooms, research facilities and the University Eye Center, which is one of the largest optometric outpatient facilities in the nation, are located on 42nd Street in midtown Manhattan. To learn more about SUNY Optometry, visit www.sunyopt.edu.